Princess for a day…or two!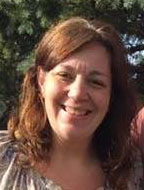 By Amy Tibbetts
I find in life that experiences with my children are far more memorable than any tangible item I can get them. The Acting Out Theater Company made that happen on three different days this summer.  The first was Belle's Enchanted Tea Party.  From the minute we arrived and were greeted by actors using French accents I knew we were in for a treat. Megan, my four-year-old, was treated like royalty the whole time.  She enjoyed getting her hair and makeup done by teenagers.  She also enjoyed making a doll and playing games.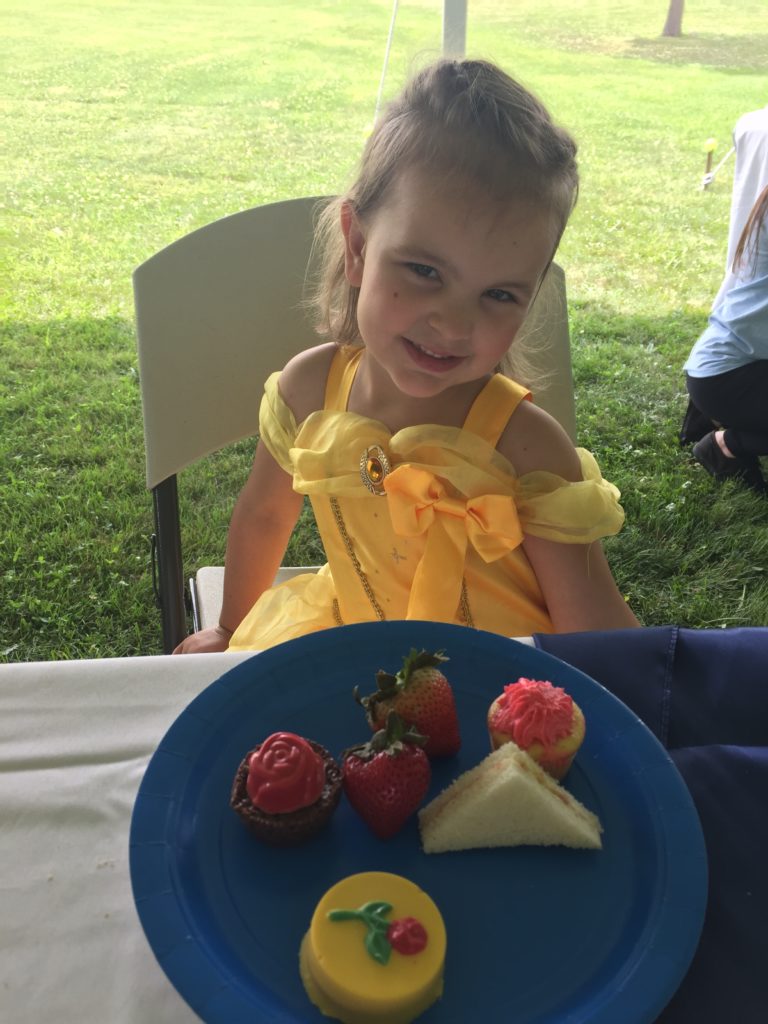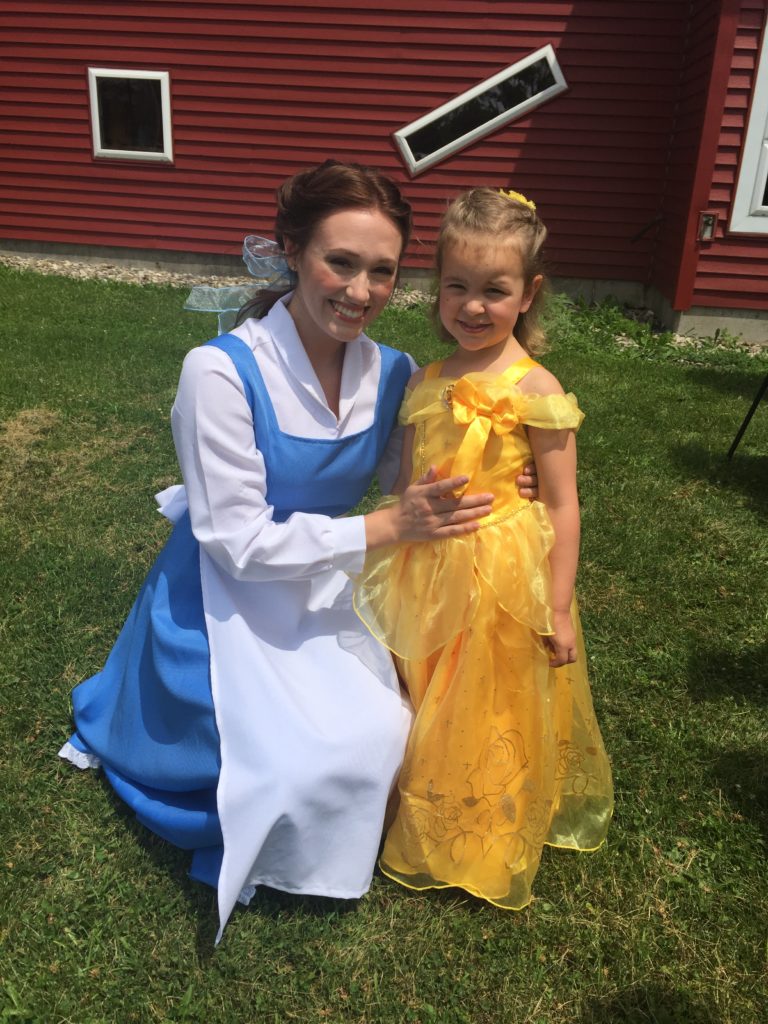 She loved meeting Belle, the Beast, Cogsworth, and Gaston who repeatedly asked her to put in a good word with Belle.  We also enjoyed fancy treats and a preview of the show.  When I saw there was a raffle for "Princess for a night" I knew I had to buy some tickets.  It ended up being the most magical prize.
When we arrived on opening night we were greeted by Ashley, otherwise known as lady-in-waiting Elizabeth. She showed us to the gazebo where it was set up just for Princess Megan.  There were signs with her name on it, lights strung, and flowers on a beautifully decorated table. Other patrons didn't even know if they could enter the gazebo because of all of the decorations.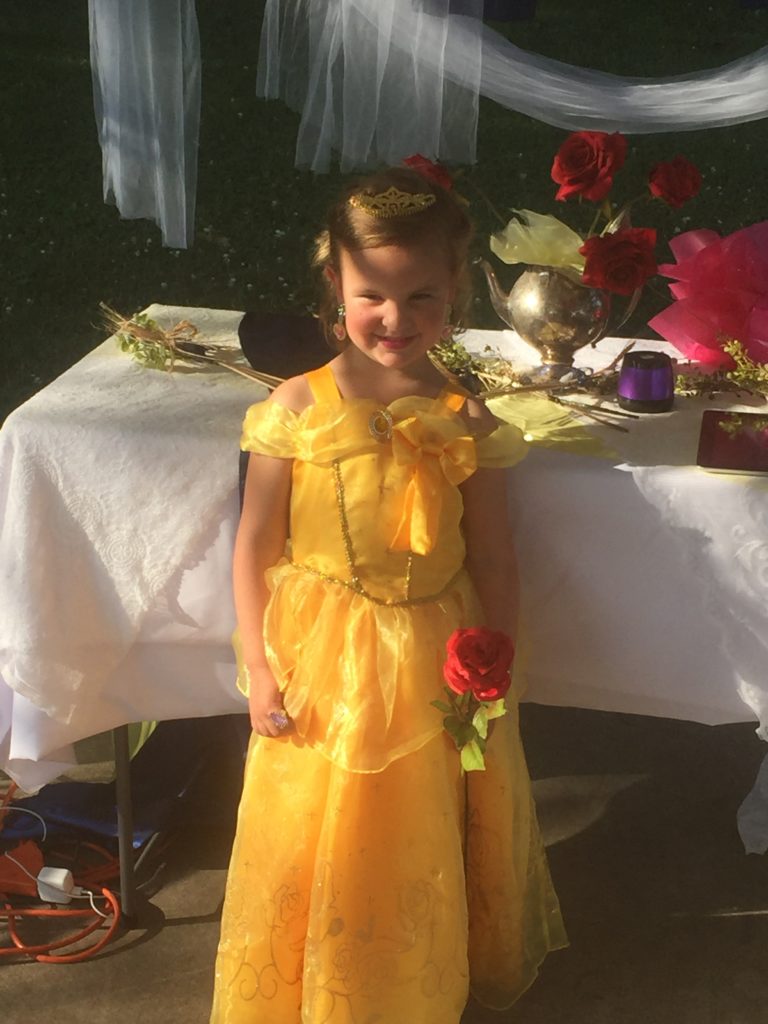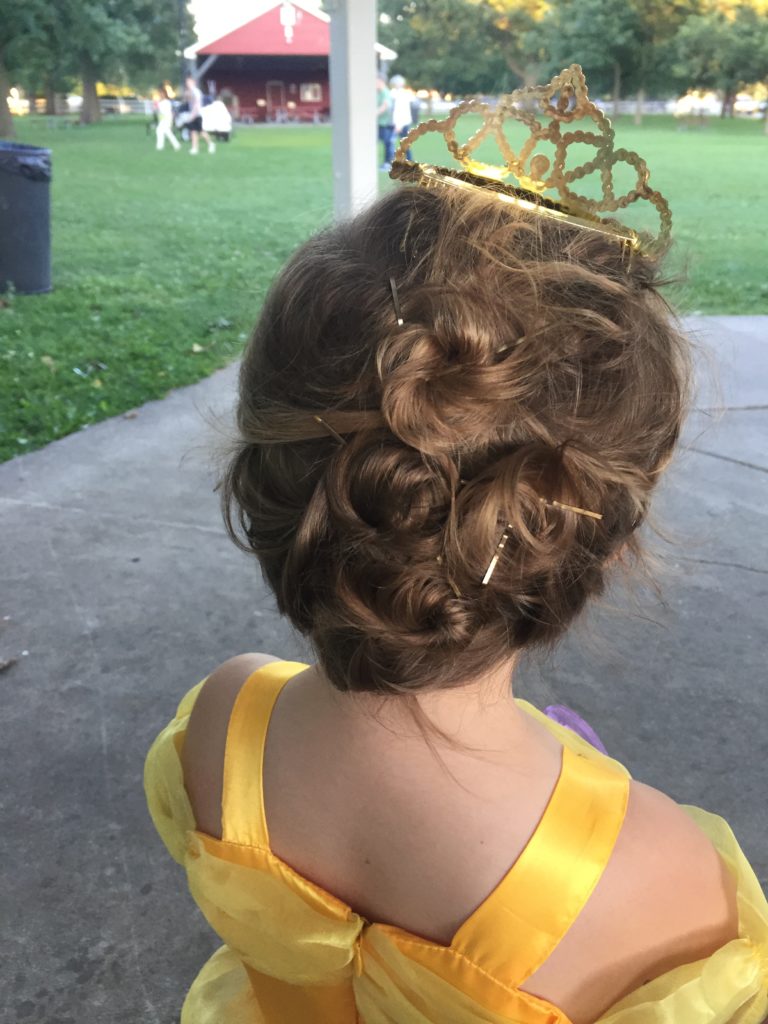 Lady Elizabeth then fixed Megan's hair and did her makeup.  It was very hot and humid that evening so Lady Elizabeth had her assistant make a fan out of paper and fan Megan for at least the next hour if not longer.  After her beauty treatment she was escorted around the different food vendors and announced by Lady Elizabeth. Lady Elizabeth didn't just announce her she made the food vendors and customers clap for Princess Megan. She then was allowed to pick what she wanted to eat.  Of course, like any four-year-old princess she chose mac and cheese, strawberry lemonade, Cheetos, and an ice cream bar. Megan then had a photo shoot and time to color. We then began the wait to see if the show would happen or not.  Lady Elizabeth continued to meet every need for the next couple hours including moving her throne into the gazebo so it wouldn't get rained on.  The show eventually was cancelled for the night, but even without a show Megan had a very special night.
On Monday when we returned for the rain date Megan once again got her hair and makeup fixed.  She practiced her princess wave for the grand entrance.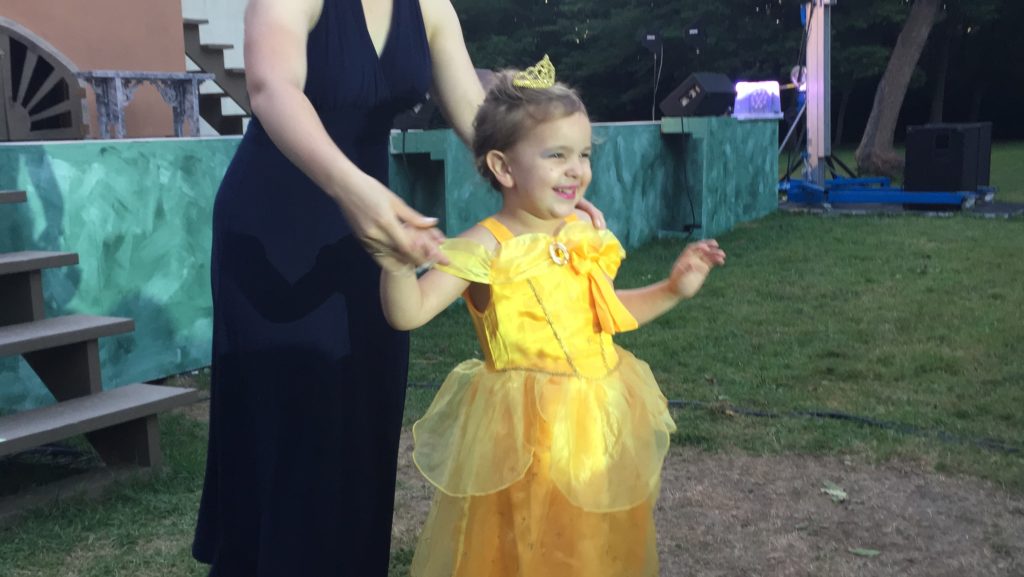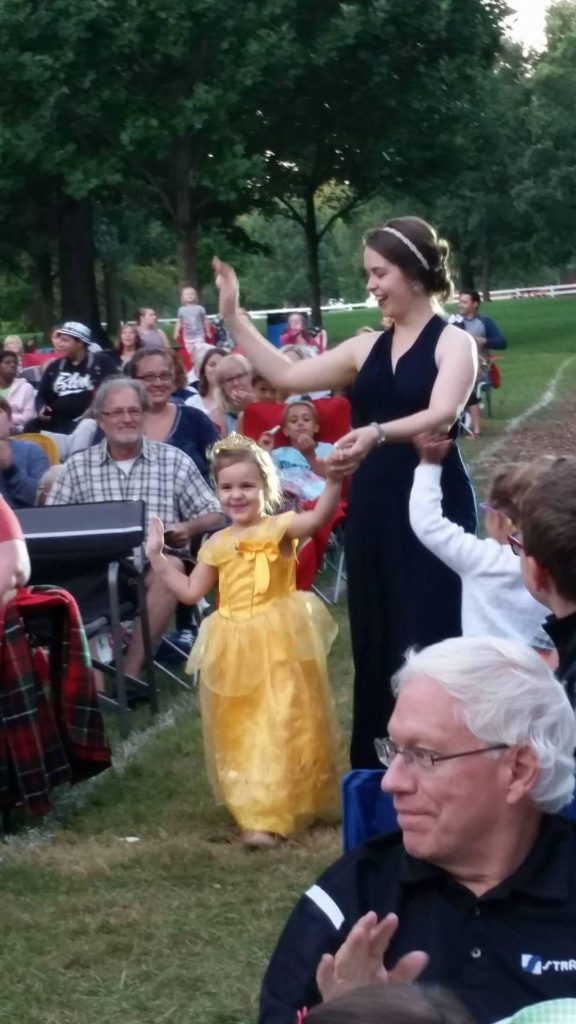 She was shown the aisle she'd walk down before the show.  When the time came I could tell she was a little nervous, but she had fully taken on her princess role by this point and bravely took her place.  Describing the joy on her face as she walked down the aisle is impossible to do in words.  She had to adjust to having a spotlight on her while remembering to wave.  When she got to the front of the crowd she was asked to bow. She couldn't see because of the lights, but once she realized what had been asked of her she executed the perfect princess bow.  She held both arms out to her sides and bowed her head.  It was perfection. She had a look of pride and joy I had never seen before. She then took her place on her throne.  Many people seated around us greeted her as Princess Megan which made her feel very special. During intermission, little girls approached her and wanted their picture with her. She had so much fun being Princess Megan for a night.  Not only did she enjoy the experience of being a princess she enjoyed every second of the play. My favorite part was when Belle and the Beast were in the library.  It was obvious to even a four-year-old that they were falling in love, because during that scene she slowly blew them a kiss.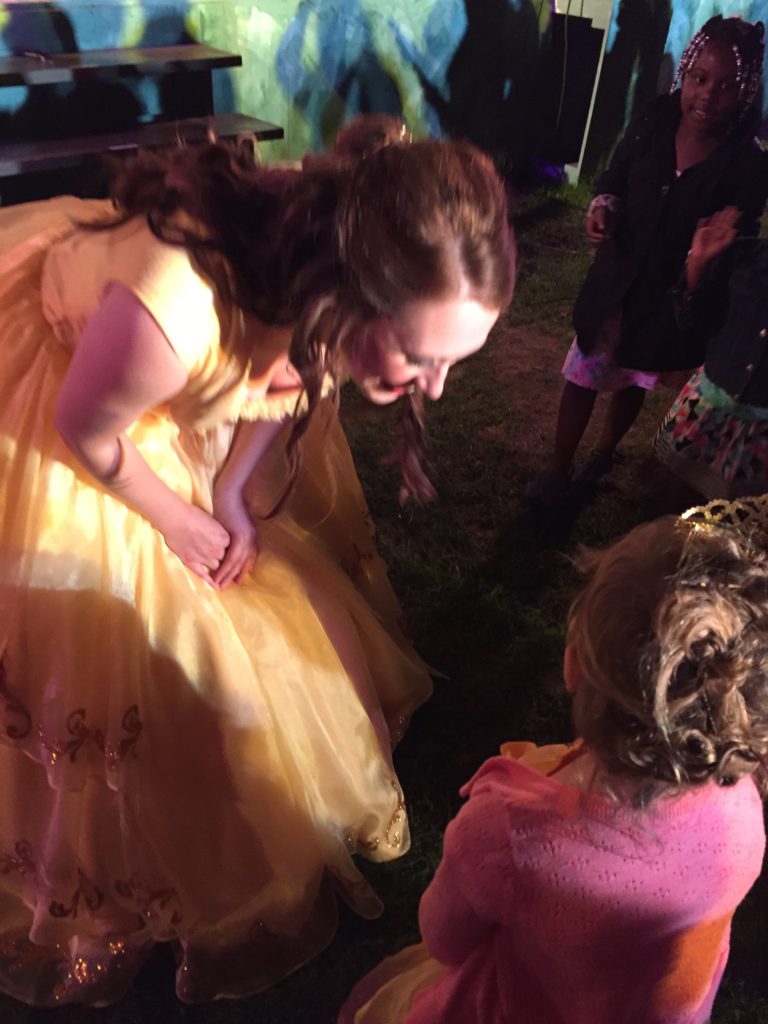 To top off the night after the final bows of closing night when I'm sure the cast was excited to see family and friends, Belle came straight off stage and greeted Megan.  This truly was the icing on the cake of a magical experience.    When I asked Megan what her favorite part of the experience was she said looking pretty, being royal, and being kind to others.