"Small Town" Theatre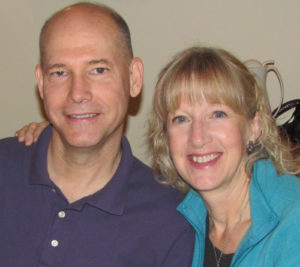 By Doug & Pam Porter
When we moved to Bourbonnais in 1998, Pam was coming from a city background (Chicago suburbs, Milwaukee suburbs), and I had grown up in rural Spearman, Texas (pop. 3535) which I had fond memories of, but did not regret leaving.  So, the question "Will there be anything to do in Bourbonnais-Bradley-Kankakee?" was always in the back of our minds.  And the consoling answer was usually some variation of "Well, Chicago is only an hour away!"
For a lot of reasons, over the years we came to understand how small-minded that attitude was, and Acting Out Theater Company was one of the many reasons we came to love our community. From the first production of Into the Woods, we knew this group was something special, and we vowed never to miss a play.  First of course is the magic of being outdoors, and the way AOTC manages to blend it's staging into the natural surroundings.  We think of Big River on a pleasant summer night with the Kankakee River flowing gently behind the stage… Chicago in Momence's historic downtown district, Cats outside an old warehouse in Manteno, Les Misérables with the eerie limestone walls of Kankakee's Shapiro Developmental Center serving as a magnificent backdrop.  Then there was Sweeney Todd with its terrifying trap-door barber shop set, staged in Downtown Kankakee…

and this year the joyous Beauty and the Beast, back where it all began, tucked away in the (foreboding and sometimes damp) woods of Perry Farm.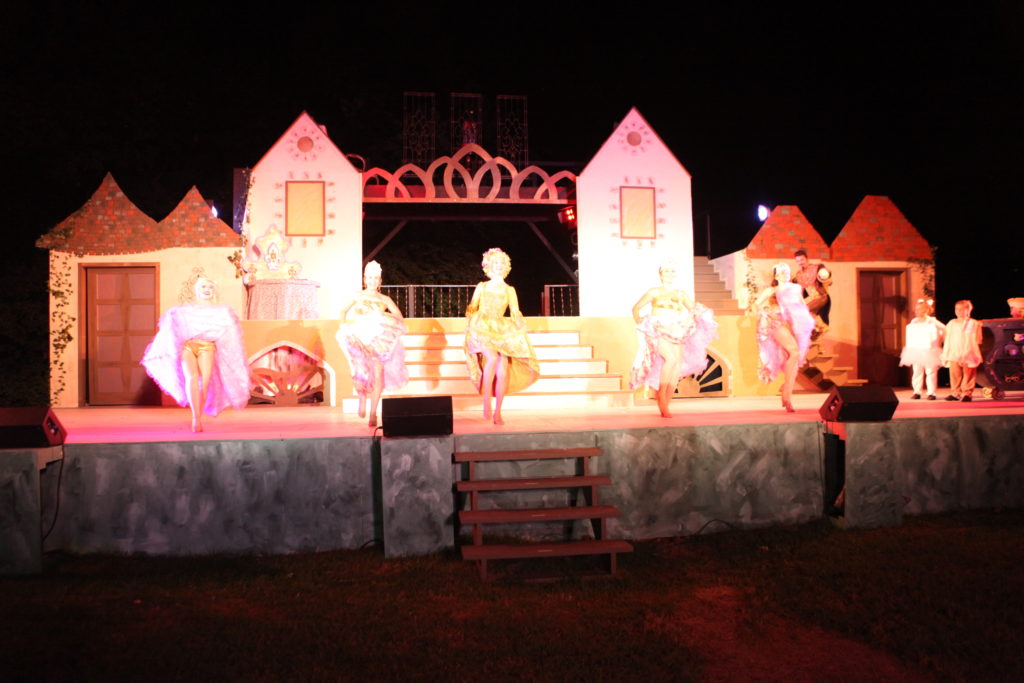 But creative staging wouldn't be enough if it hadn't been for the one other special ingredient: the cast and crew.  Year after year, we are just stunned at the talent that either springs ready-made from our wonderful small community, or is enticed to join us here by the ongoing success—and growing region-wide reputation—of AOTC.  The voices, the costuming and staging, masterful directing and attention to detail, the unexpected excellence… everything about these performances is first class!  We have attended plays and musicals in metropolitan Chicago for years, and come away from AOTC productions telling each other, "Wow… Chicago has nothing on these guys!"  (Except huge budgets and big-time salaries.)
Which brings us to the last thing that we've come to appreciate about our little outdoor theater company: the spirit.  It's obvious from our lawn-chair perspective that the people who share their talents with our town LOVE what they are doing, and they love giving us this gift every summer.  The joyous performances make it clear that the people involved with AOTC care about getting it right and making it look easy… even though is isn't. They make us proud to be part of something in our "small town" that is really, really good.  Think of it as small town chic: mastering the art of being both very proficient and unpretentious.
Though we had to move away two years ago, we never miss the pleasure of coming back to discover what AOTC has up its sleeve this time!  Makes us proud to say, "Yeah, I'm from Bourbonnais, Illinois… have you heard about their outdoor theater?!"