Rainy Days … and Mondays
By Sharon RIchardson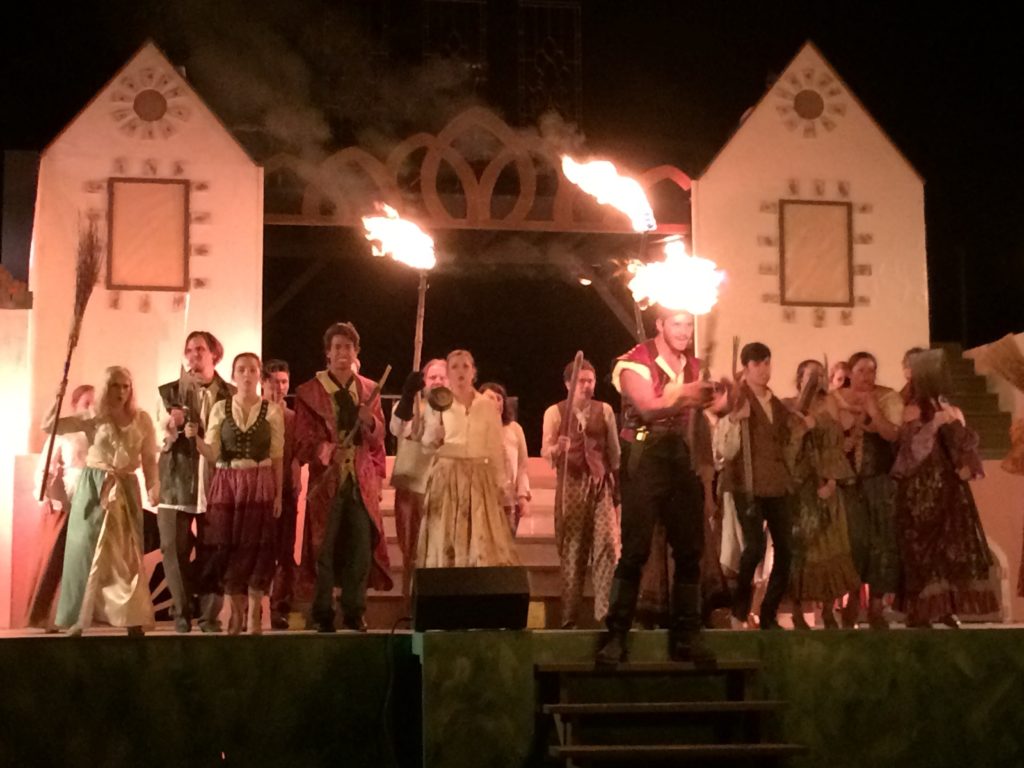 Maybe the Carpenters iconic song pops in your head when you read these words – but for me it is all about Beauty and the Beast.  We fought rain this year – hard.  Stormy rehearsals – waiting it out under the leaky stage – running to the farmhouse to finish Gaston/Beast fight scene – 4th tech night with an unexpected storm 1 scene after intermission.  Thankfully the cast got back to the farmhouse in time – but many of us were scrambling to get everything up and protected.  Michael and I in an open roof Kubota making our way thru the trees during the heart of the tsunami will be a memory for the ages.  I actually didn't realize jeans could get that heavy when wet!  Admittedly it was funny during the drive and we didn't hit a tree so all was good!
We escaped our Thursday Preview Night unscathed so we were gonna sail right through the whole weekend of shows, right?  Mother Nature had other ideas. Storms this season have been unpredictable and quite severe at times.  Opening Night started out excellent.  Huge crowd gathering in the audience and at the festival – the cast getting ready with an electric buzz in the air – their show was so ready to make its premiere and they could not wait to share it with you.  I'll never forget the moment I walked out on the farmhouse porch and glanced up at the sky and thought – hey those clouds look a little weird.  There stood our Beast, Nick, looking up at the same clouds.  I quickly assured him radar looks good – smooth sailing ahead.  What I didn't know was a storm had just popped up near Dwight and was heading north.  It looked like it would just skirt the edge of us, we might get a little rain, but nothing to be concerned about.  I announced to the audience some weather was heading our way – please take cover – but no worries – plenty of time to show time.  Well that "small" little system grew and stayed swirling over us.  Radar kept changing by the minute and here we all were glued to our screens – the cast in the farmhouse – the crew backstage – the audience in the pavilion, gazebo and their cars.  I kept assuring the cast that by show time – or even a delayed show time – we were gonna make it.  But Mother Nature decided tonight was not going to be our opening night and we had to call it.  I felt all the emotions from all over the park just sink into my soul.  The cast is fully aware of rain dates – but of course we aren't going to need them!  So people make plans – vacations – days off from work – other shows – family & friends here that could ONLY come that date.   AND then there was that huge audience waiting out there patiently that now were all exiting at the same moment in a storm.  I felt the angst of the world squarely on my shoulders.  I am the one that tells everyone how fantastic outdoor theatre is and right now we were smack in the middle of when it's not.
We got hit with a few big storms that night so we had some digging out to do the next day so that we could actually have our postponed opening night!  Help started rolling in.  A message from the BTPD Executive Director's wife Pam – "How can I help?"  Anthony Settle, BTPD Board Commissioner, "I'll be right there."  Bill Hengl, BTPD volunteer, "I'm right behind Anthony."  They spent hours loading in woodchips to our backstage area for our cast.  Tech and backstage crew came rolling in to assess all parts to make sure there was no damage and get everything back up and running.  We do not have the luxury of just walking into an auditorium and flipping on the power.  Every single thing we do is in the great outdoors.  That night in our circle time backstage in the tent – that had just been loaded full of woodchips hours before – I looked around at that fantastic cast and saw the sun setting over the meadow – and my message to them was anything worth doing is not easy and not without risk – we were living proof of that – I then knew it was supposed to be tonight – magic was present tonight at Perry Farm – and what an incredible opening night it ended up being.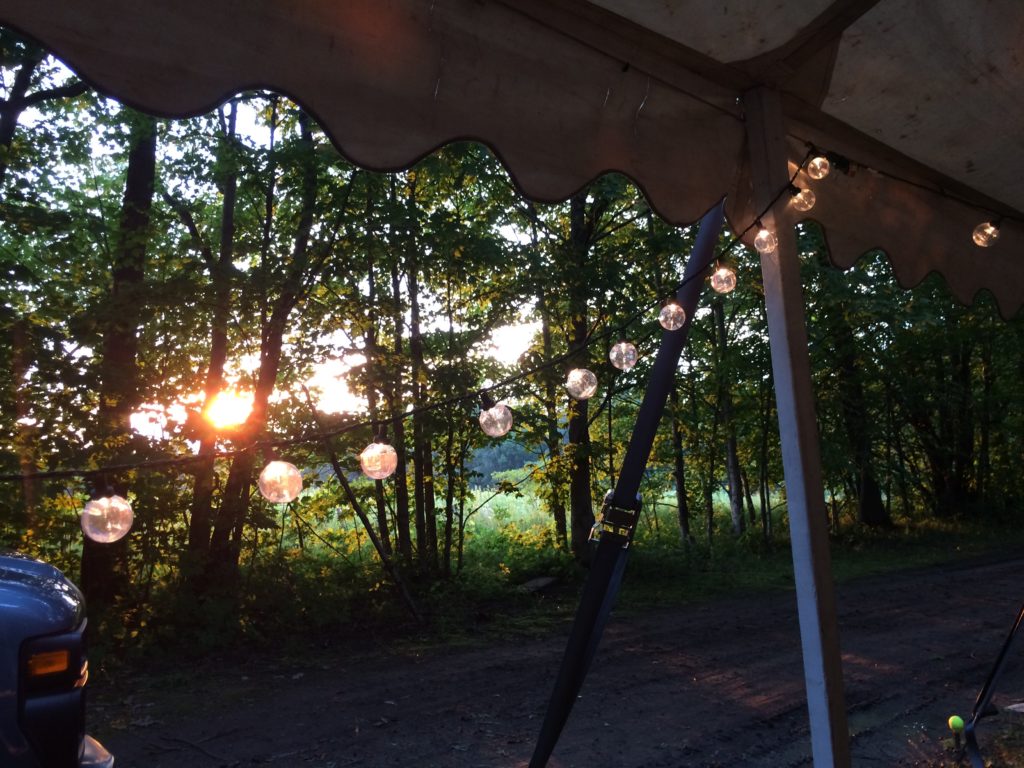 The stars in the sky and the stars on the stage shone brighter than ever on this glorious night.   Experiencing the things that make outdoor theatre what it is – the wolves coming out of the woods with spooky lighting and fog – Gaston falling 17 feet to his death – torches with real fire in the mob scene – the Beast singing his big number with a slight breeze rustling in the trees behind him in the West Wing.  I sat there most of the night teary eyed watching the fantastic cast sing and act their hearts out – having overcome everything that could be thrown at them – and performing at this level – it felt amazing and gratifying.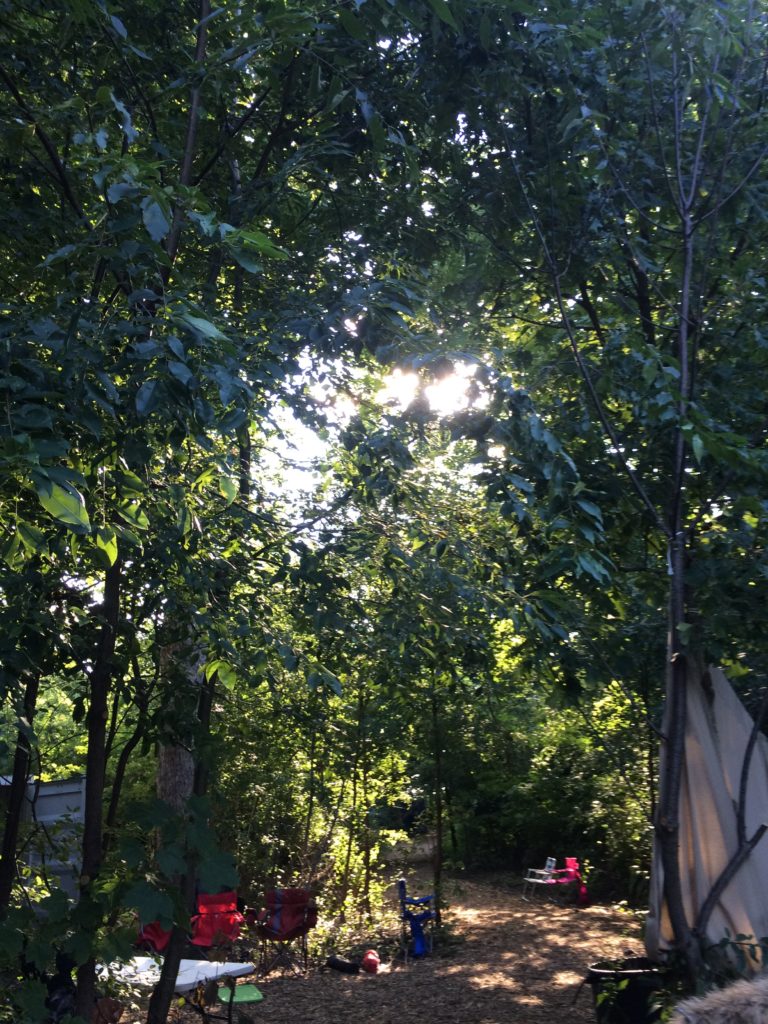 Fast forward to Sunday nights delayed start due to a storm that blew in and then blew out.  The stage crew jumped into high gear drying everything off and fixing things that got wet or damaged in the brief storm.  Audience member Randy Tumblin ran home and got his giant squeegee and towels and jumped up there and started helping.  Another good Samaritan ran home and got a pile of towels.  The next morning Eric and Grant Penrod came and put down more wood chips in our muddy center aisle so Monday nights audience would not get muddy feet.  People cared.  People wanted to help.  And the community came together to ensure we could put on our show.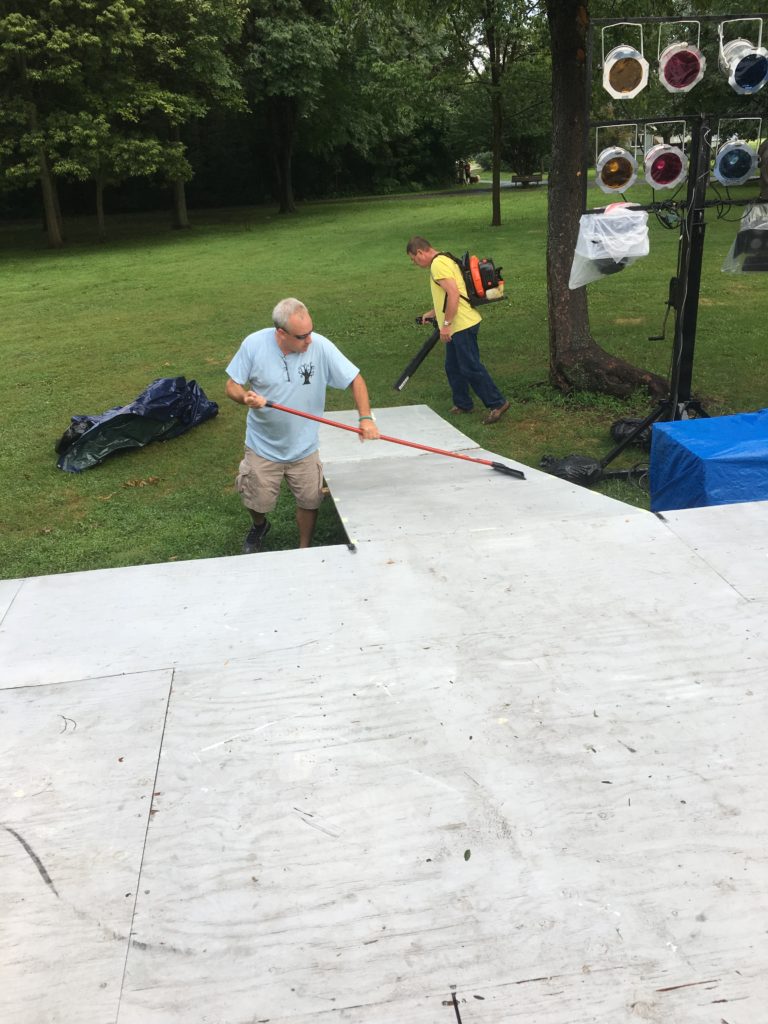 Outdoor theatre is tough.  It is not for the weak or lazy.  The heat, bugs, and rain will separate the weak from the strong quickly.    But what does happen is a bond is formed that can't adequately be described.  We survived.  We survived together.  We created something out of nothing.  We created something beautiful that can't be duplicated anywhere ever.  SO I am here to tell you it is worth it.  It is awe inspiring – gratifying – fulfilling – and hard work.  BUT with the right group of people – anything is possible.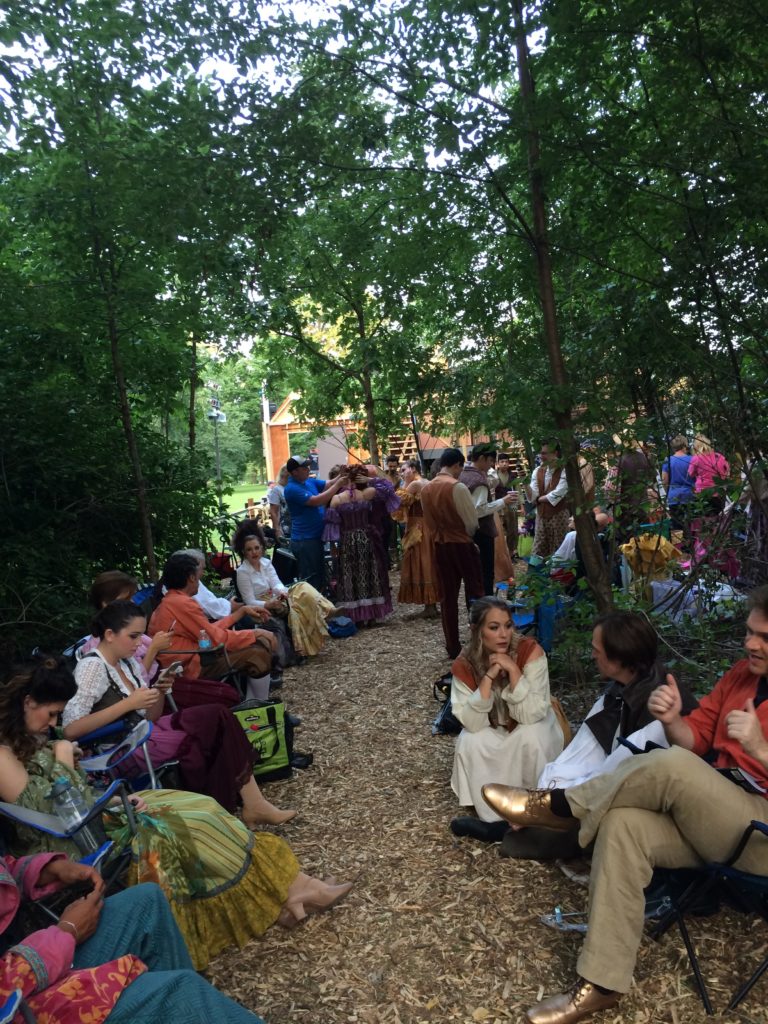 Thanks to all of you for supporting us during this weather driven year.  For loving us – for helping us – and for making sure we continue to do this crazy thing called outdoor theatre.  Henry Ford said "Coming together is a beginning, staying together is progress, and working together is success."  I can't thank everyone enough for the togetherness it takes to do this.  We love you and salute you!
Our rainy days led to a Monday night performance – and you know what?  That was A-OK!
Now on to Sleepy Hollow………..