A WINTER IN VALLEY FORGE…er, Sleepy Hollow
By Jeanne Benson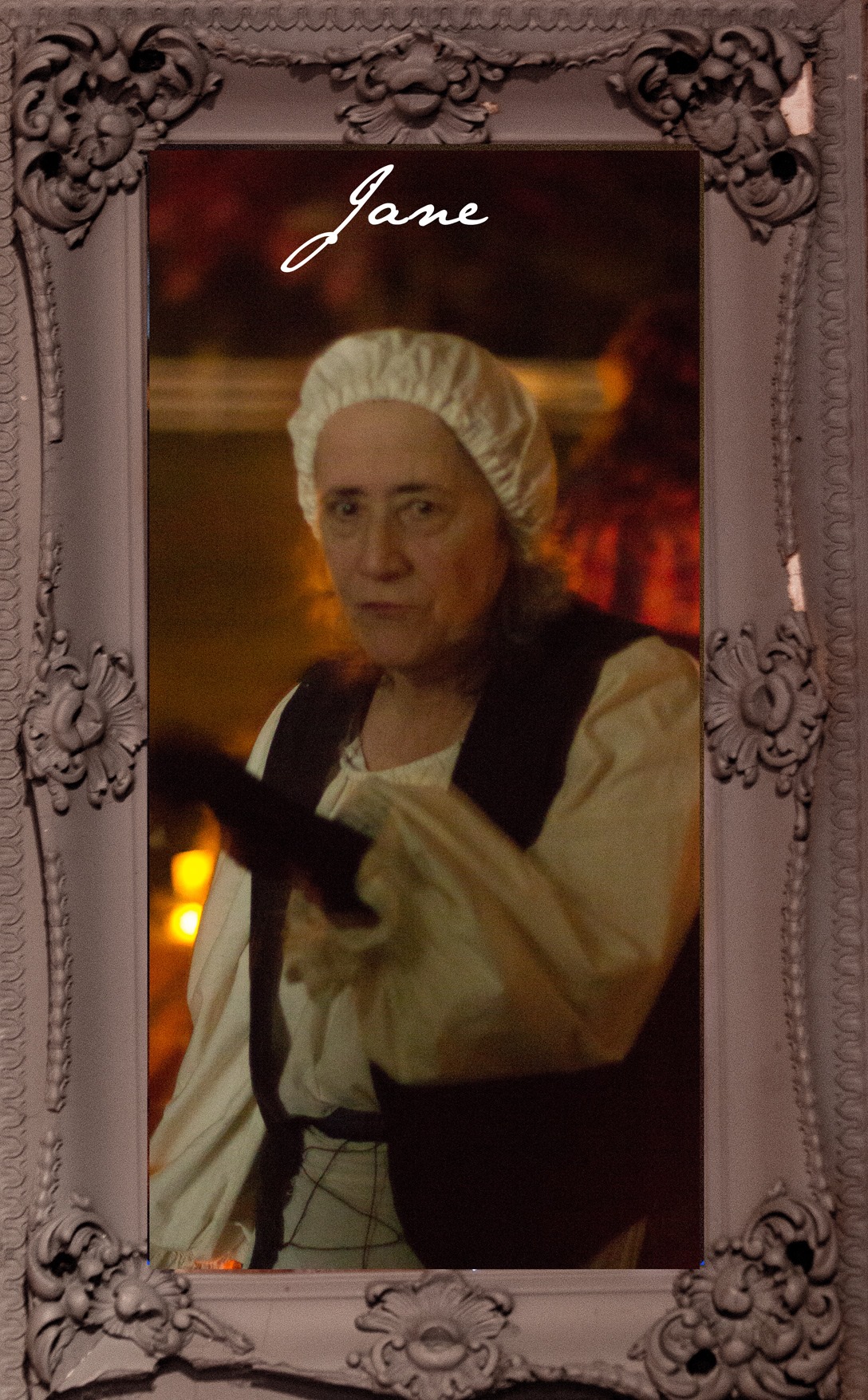 "It was the best of times, it was the worst of times." No, Dickens said that.  "Heeere's Johnny!'.  Nope, Stephen King.  "It was a dark and stormy night."  Nah, Snoopy would require royalties.  Gosh, who knew it would be so difficult to write a blog!
I am, and have been since the first, Plain Jane, a name I picked out for many reasons. Sharon had approached my daughter and I about being a part of the new Sleepy Hollow, with the idea of being campfire people.  Well, heck, we loved camping, so we said, why not?
Little did we realize what that would be like.  That 1st season we did 10 shows a night, EVERY night!  You're really ok the first 8, then the last 2 are really tough.  It remains that way today!  We began sitting around the campfire saying, "1 down, 39 to go. 2 down…"
We were all "newbies", trying to meet Sharon's vision.  I mean, what did we want to accomplish? Were the campfires telling a story, scaring people, or what?  I think that first season, it was mostly "or what."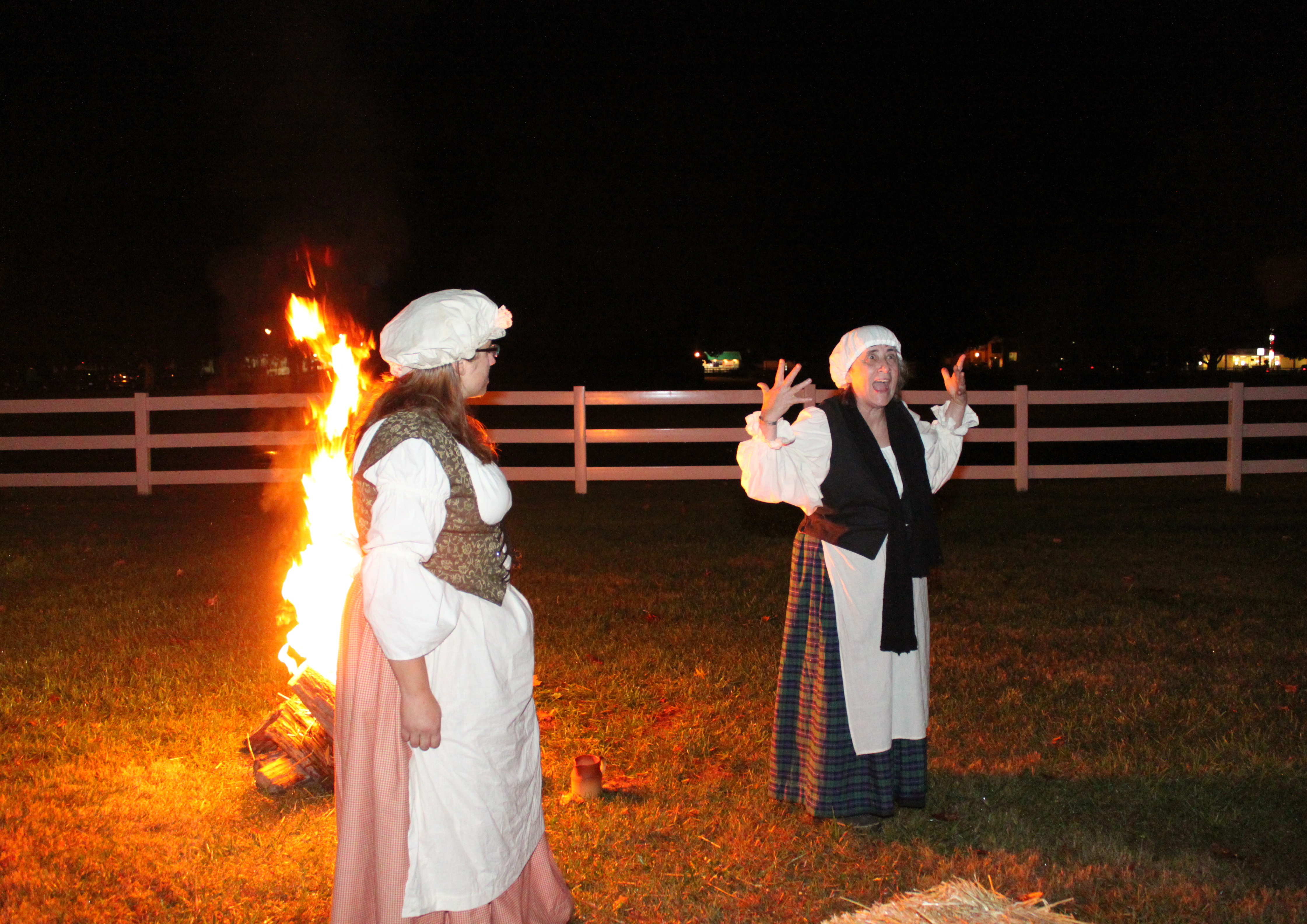 The two campfires were lucky, though. I mean, we had HEAT!  And that season, one weekend was so cold, so windy, it even snowed on us!  I would NOT have made a good 18th century woman.  My daughter Jenny, who coincidentally played my daughter in the campfire ( talk about good casting!), and I soon donned fingerless gloves, long underwear, fleece pants, 3000 pairs of socks, a cap under our caps.   Whew!!!!  It was COLD!  So cold, the Lady in White could have been renamed the Lady in Blue!  She was stuck in the woods with flimsy gowns, and no fire.
The cider stop had heat. It was located down the road from the campfires, on the west end of the park, near the stage we had used for Into the Woods, which was, um, in the woods.  Those people had no fire, and were so cold, surgery could have been performed on them without using anesthesia!
But the hardest of all was going to the bathroom that first year!  Nowadays, we walk to the maintenance barn and go, but not the first season.  Our campfire was located west of the road, right across from the bathroom.  So near, yet so far!  Apparently 18th century women didn't go to the bathroom, so we couldn't either.  But nature being what it is, Sharon arranged for Sarah to pick us up in the cart and be whizzed (pardon the pun) down to the farmhouse.  Of course, we had to wait for someone with a walkie-talkie to come by to inform Sarah we needed her.  Sometimes that grape arbor looked really inviting, I can tell you that! There were no costumed guides then, only Sharon, Julie, and Jean.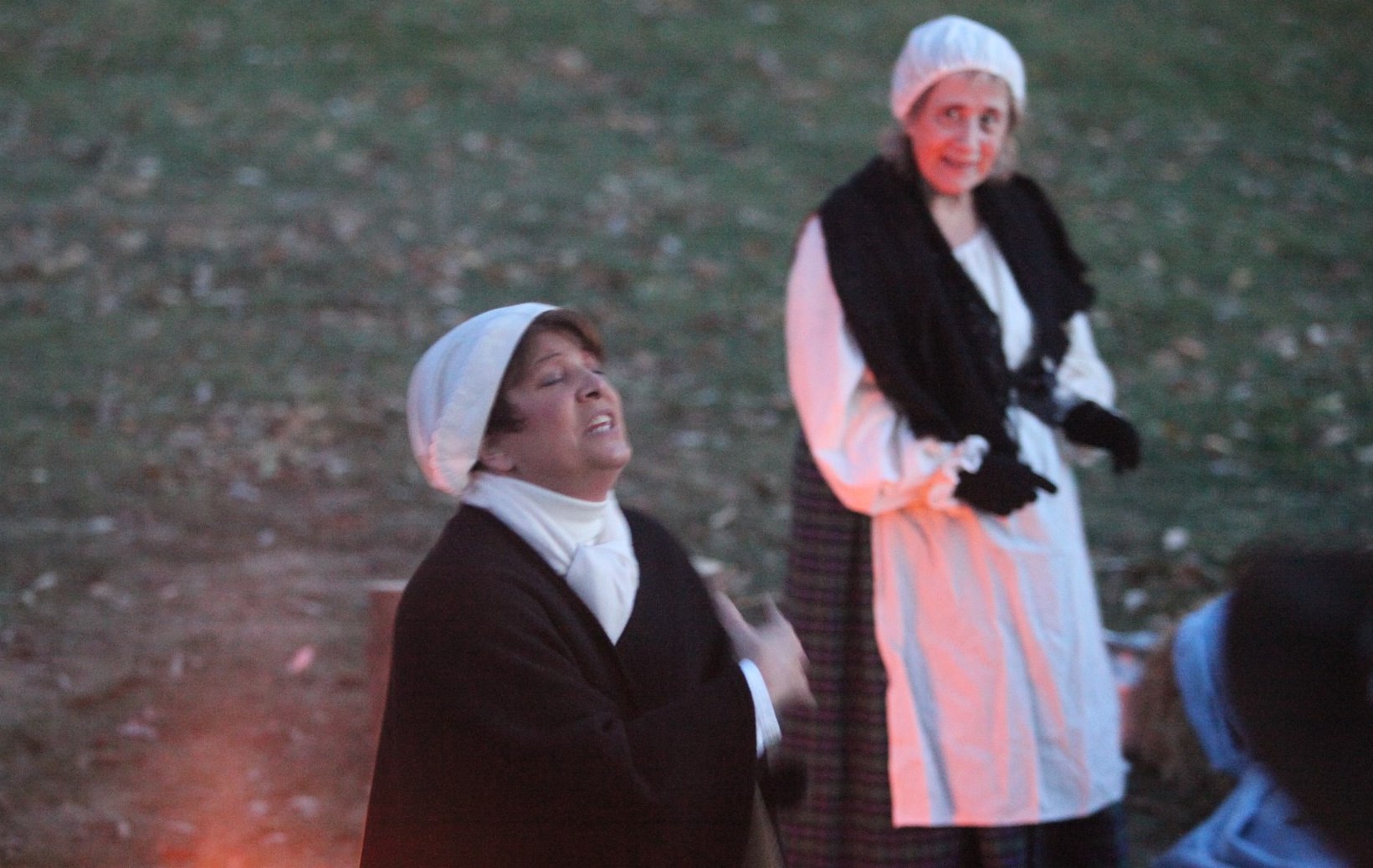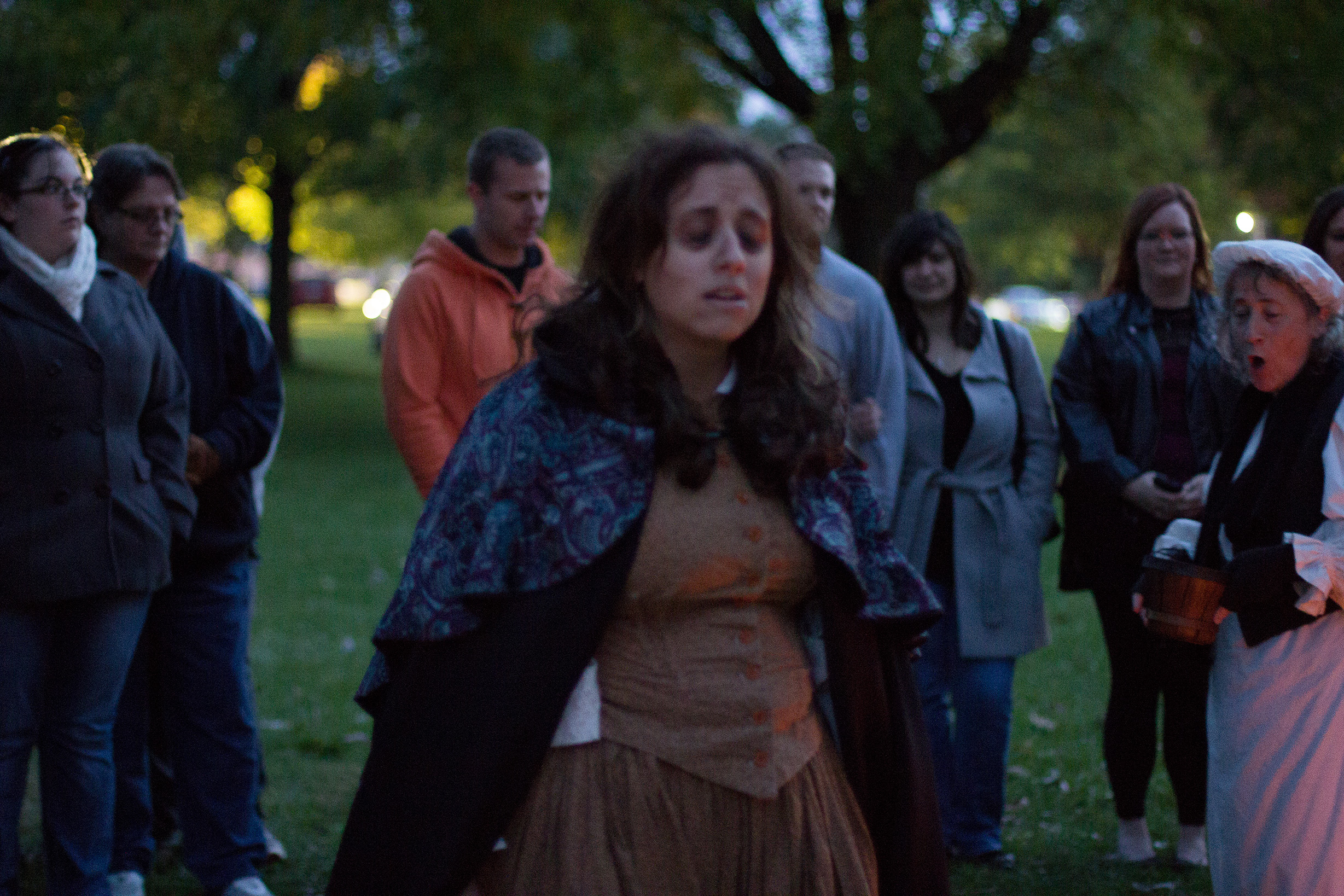 Perhaps the horseman has taken pity on us, because we haven't had that much cold since then. (Yes, I am knocking on wood as I write this!). We have endured rain, and wind, but still the show goes on, and changes and gets better every year.  Plain Jane, her son Samuel, and her lovely older daughter Prudence will be there this year, all in one campfire.  We will be there, waiting for whatever weather the horseman brings.  We will stlll be stoking the fire, still telling our tales, still trying to scare people, still doing "or what", and still saying, "1 down, 35 to go".
(We don't do as many shows now.)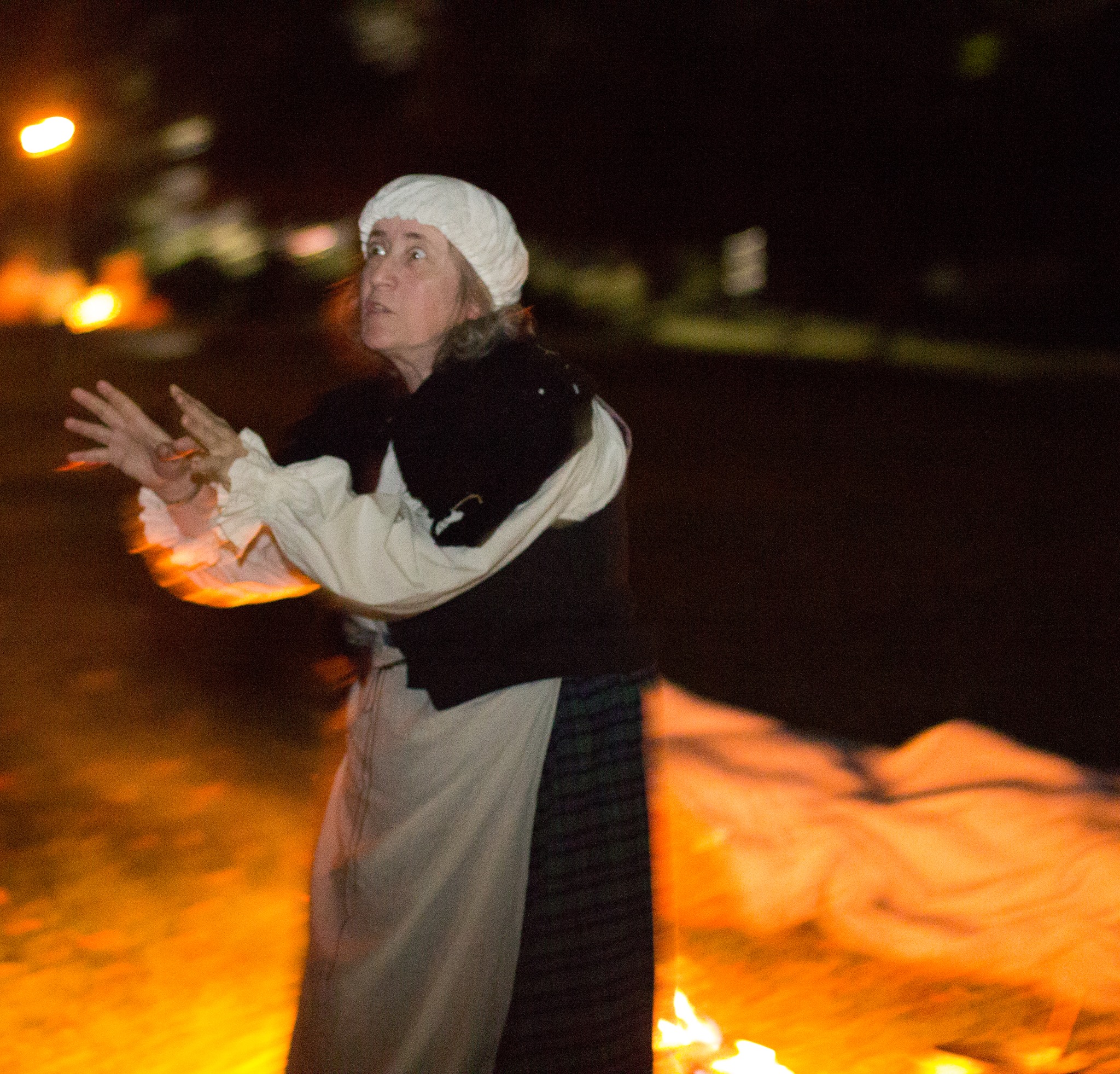 But most importantly, we will be doing it for the love of theatre, and more importantly, for the love of the story, and that makes up for any bad weather we have to endure.