Rain, Rain, Go Away!
By Paula Denault
It's 4:00 on Sunday evening, and the staff, cast, and crew of Sleepy Hollow has gathered one last time to recreate the magic that is "A Night in Sleepy Hollow Reenactment." As we enjoyed our dinner provided by the Mancino's we all chatted about the night ahead and nervously checked our weather apps on our phones. You see, this was an added date that was to take the place of the rain-out from last weekend. "Rain, rain, go away!" was the overwhelming sentiment among us. We hoped the official "word" was that the "show would go on!" What if the forecast for the rest of the evening is wrong, what if we could change the ending so our horses don't have to run, what if…, what if…, what if…???? What a tough decision!
Unfortunately, the conditions outside were found to be too difficult to overcome and the weather forecast was calling for continued rain ahead. The decision to cancel had to be made, and the cast had to be informed. Our horsemen could not risk running their horses on the wet, wet ground and our tram was already spitting mud everywhere on its "dry run" (no pun intended). All of our actors back in the hollow were sure to be soaked, with no means of warming themselves in between shows, and how do we keep a campfire stoked for the "campfire stop!?" Moreover, what about our audience members who would walk through the orchard and the hollow? How do we keep them safe?
Once told, the tone among the cast was a bit somber. Perhaps unconsciously, we prepare for the last time we will share this experience with this group of people, and that had been cut short. Aside from being bummed for themselves, they were also sad for our audience for whom they do all of this for! It just didn't feel finished!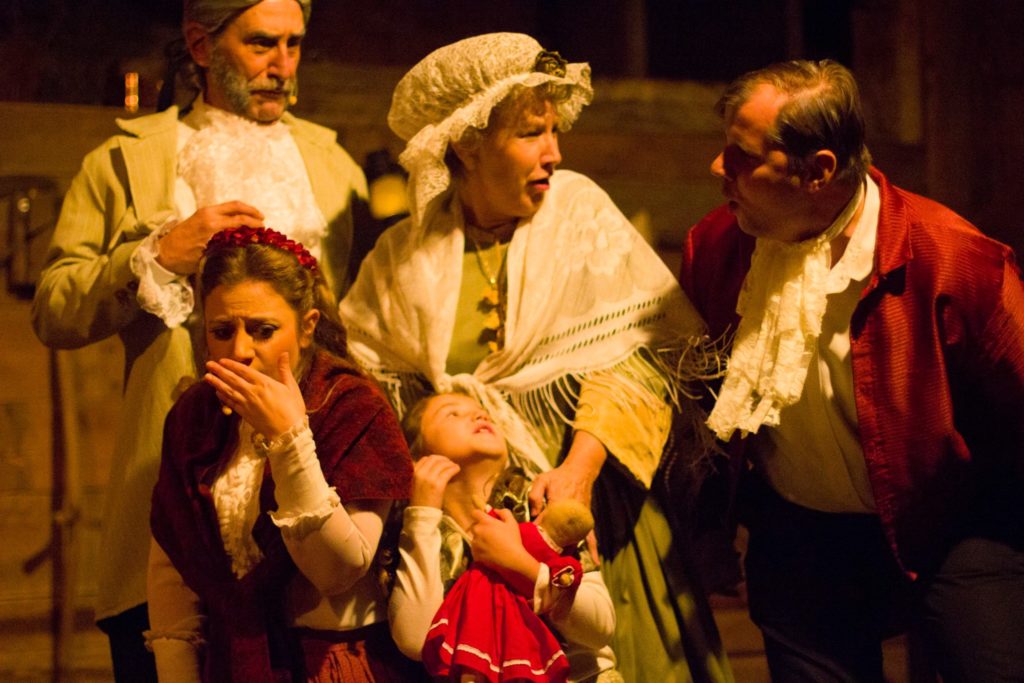 By 5:45 the make-up and wigs were packed, the costumes bagged and loaded, and the barn and tavern props and sets were ready to go, as well. Brad Meitzner was in the hollow disassembling his lighting equipment at the bridge, and Mark Klak was in the hollow gathering all of his sound equipment. Meanwhile, the Bourbonnais Park District was zipping around gathering their many pieces to this puzzle, as well! By 7:00 everything had been delivered back to our shoppe and locked up for another year.
Amazingly, in all of this frenzy of activity and emotion there was not one complaint to be found! No one complained that they had to take off their costume which they had meticulously put on, or whined that they had driven here only to turn around and go home. Each and every individual involved from the front gate, to the campfire, to the tavern, to the barn, to the hollow truly loves what they do! They love spending their time together creating something magical and they love creating something truly unique and inviting for our community!
We eagerly await a chance to invite you back for the magic, as we look forward to our summer production of West Side Story, and yes, another year of Sleepy Hollow!