So Many 1sts!
By Sharon Richardson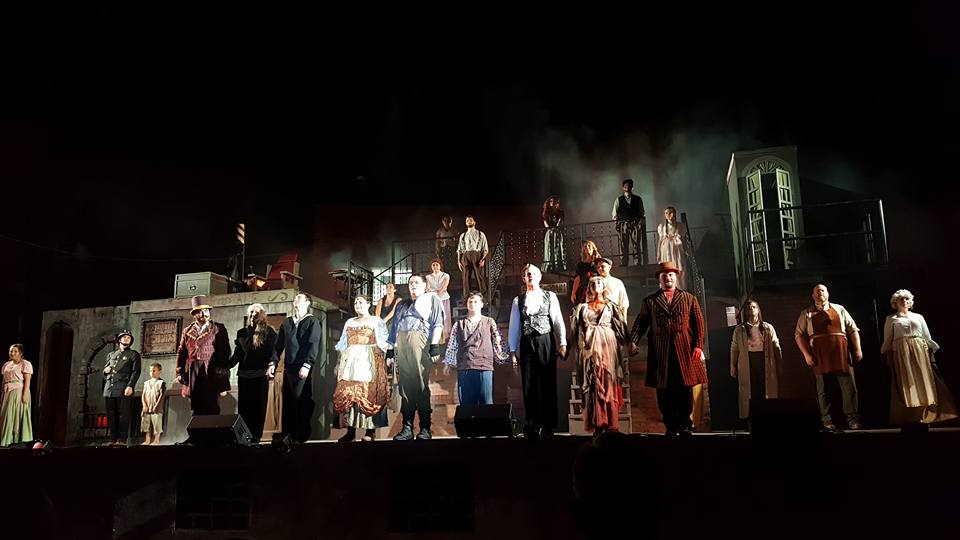 It is our 6th year – but oh so many 1sts!
When I sat down to write a final wrap up of our 2016 summer production of Sweeney Todd – words just kept "popping into me head."  Words like humidity – talent – bloody – rain date – trap door – razors – hot – rain policy – storms – positive attitudes – sweat – laundry – birds – lightning – and I thought those words describe our summer quite nicely.
It was the first year in 6 years we had to put our rain policy in effect and actually perform on a rain date.  Upside?  We discovered yep – we had all our bases covered and it all worked out very well indeed.
It was the first year we have had such hot weather and consistent humidity for the show nights.  Upside?  The cast responded like pros and didn't let it affect their performances and they learned a lot about their endurance!  And the community still attended the show!
It was the first year that so many characters died a bloody death on stage which resulted in loads and loads of laundry.  Not to mention the amount of sweat produced!  Upside?  Our Costumer – Lynda – took it in stride and put Stage Director Hubby Jerry to work finishing up when she needed to collapse in bed!
It was the first year we had bodies travel to their death via a trap door a few stories below.  Upside?  We figured out how to fall and land like professional stuntmen!
It was the first year we used razors on stage AND had to look realistic killing people!  Upside?  Mellody our prop chair and actors Cody and Steven perfected the art of death by razor after many hours of practice!
It was the first year we got to perform with actual lightning and visible storms as a backdrop.  Upside?  It really gave this dark tale a cool realistic vibe!
It was the first year birds arrived on cue night after night during a song about birds.  Upside?  It added even more reality to an already stunning environmental setting.
And well it wasn't the first year we have had great talent and positive attitudes in the cast but upside anyway?  We really needed it for such a difficult Stephen Sondheim production and challenging conditions this year.
I'm always saying "successful people make adjustments" – as I'm sure (especially those closest to me) get really tired of hearing – but in most every situation just described – that is what made the difference.  We are very fortunate to be surrounded by "can do" positive people that know how to traverse in uncharted territory.  Each year we learn so much about outdoor theatre and in the end it is the challenge of overcoming the elements and obstacles that make it all worthwhile.  What a time to be alive in Kankakee County!  Thanks to the amazing Downtown Kankakee movers and shakers, sponsors, members, vendors, audience, staff, crew, and the cast.  Each one of you were a part of something that was built from nothing and surpassed all expectations!
Thank you for another great year of outdoor environmental theatre!
Next up!  Nightscape – A celebration of music under the stars at Perry Farm!  A fundraiser for us in partnership with 7th Anomaly – Friday August 26th – please be there!