Fall by the Numbers!
By Sharon Richardson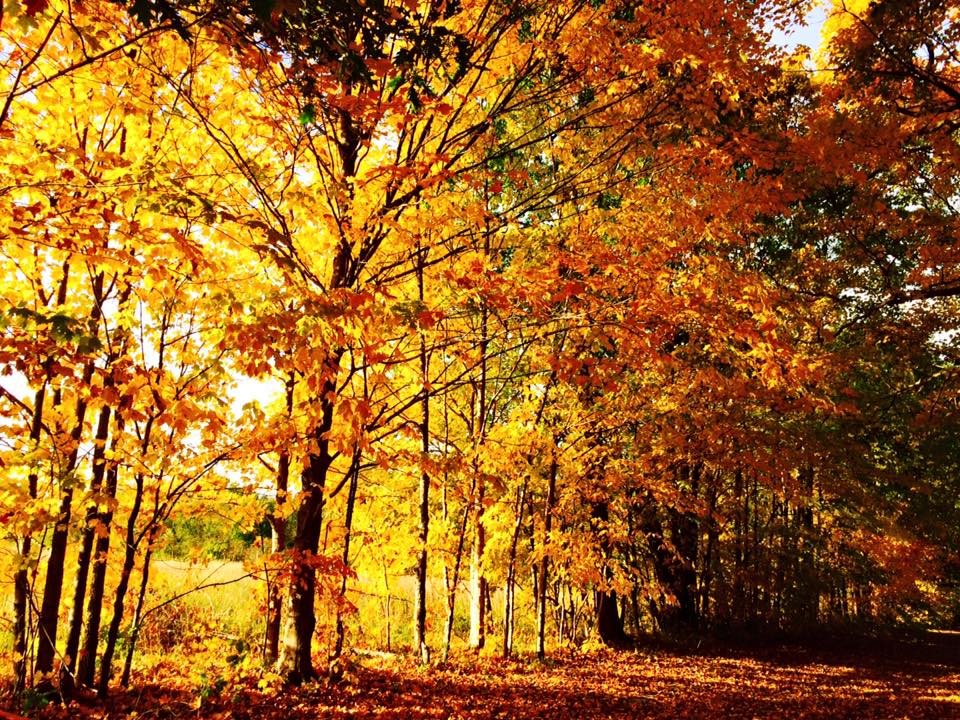 Sometimes the brain functions better when it knows the number of things that need to be accomplished.  For me that number seemed a tad daunting as we were coming off of our big summer show Sweeney Todd.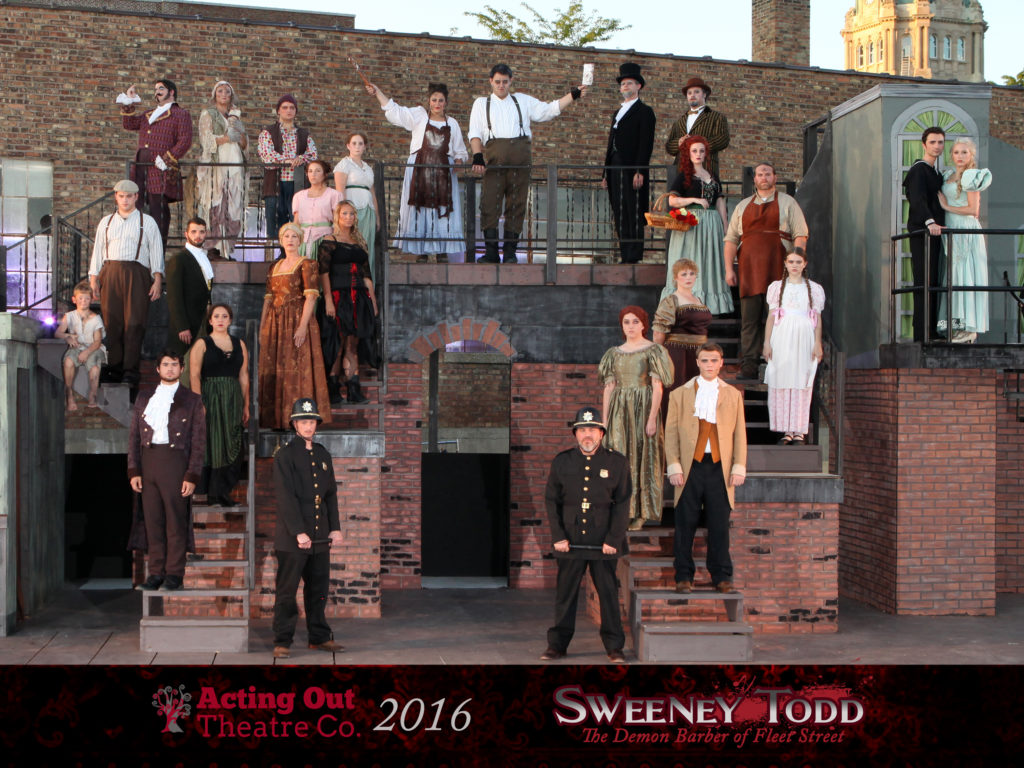 We launched right away into the fundraiser Nightscape – which had been going on in the background for almost 1 year by Brandon Provost (thankfully!) but we jumped right in – we had exactly 30 days from the close of Sweeney until the event.  It was a success and felt like the official end of summer!
Next up – Scarecrows on the Perry Farm fence!!  This is part of my BTPD responsibilities and as I have said many times – fall is when my worlds collide quite nicely – but it is oh so busy!  This is the 4th year of scarecrows for me and it has grown considerably each year!  2013 – 54 scarecrows, 2014 – 112 scarecrows, 2015 – 144 scarecrows, 2016 – 152 scarecrows
AND we are now sold out!!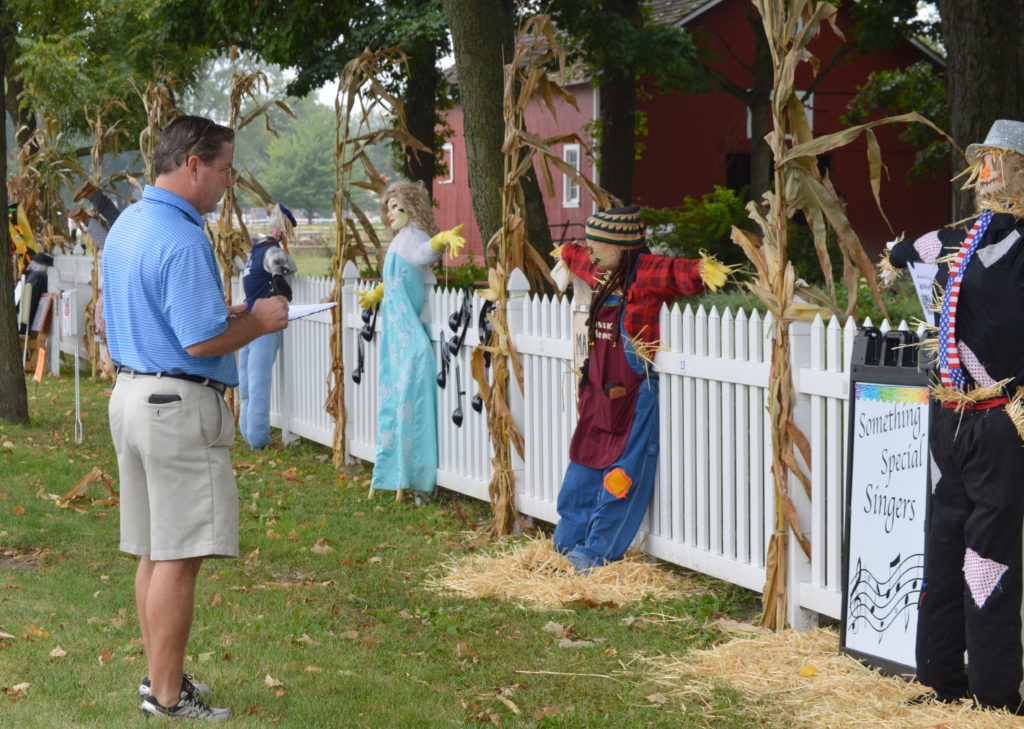 The contest has also grown into a Scarecrow Festival with music, food and voting!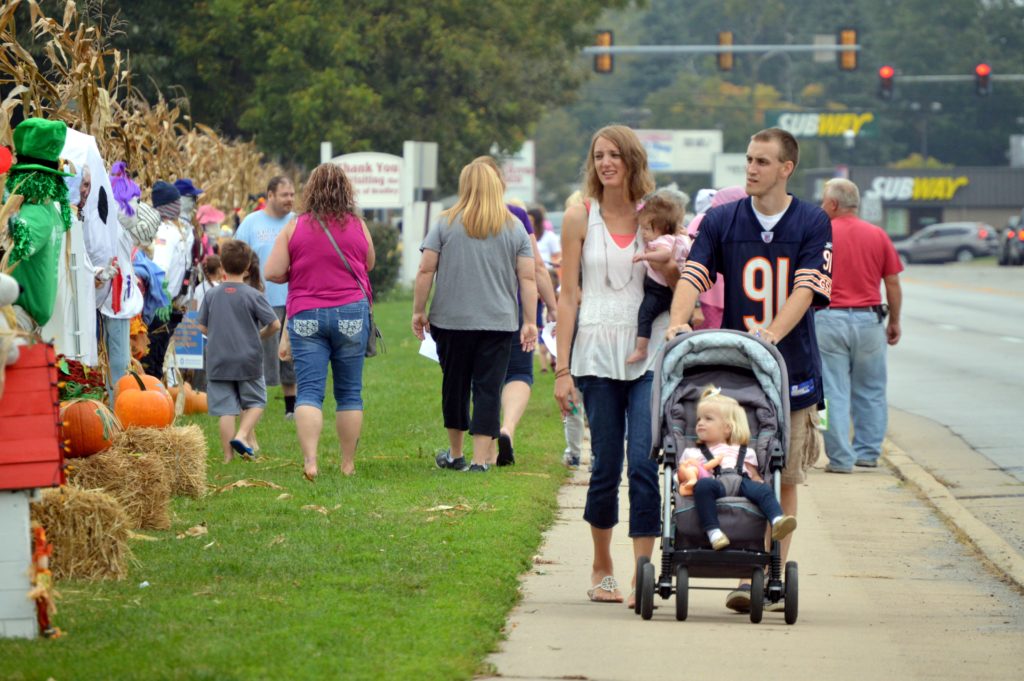 The People's Choice award voting generated over $800.00 for the Breast Health Center at Presence St. Mary's!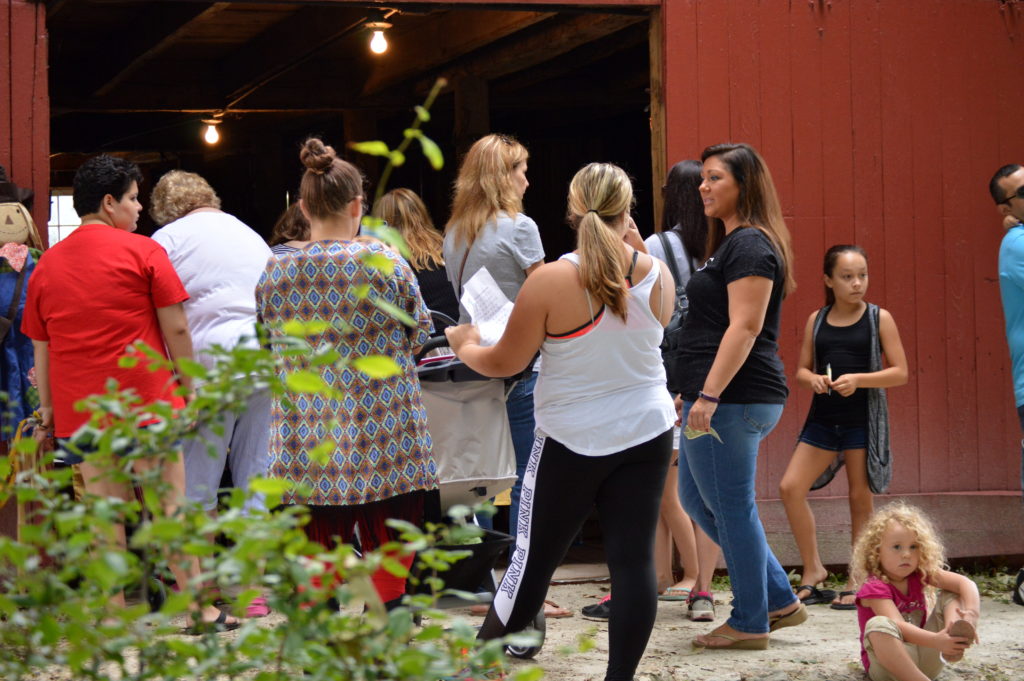 We also host a Business Before Hours with remote broadcast and breakfast in the barn.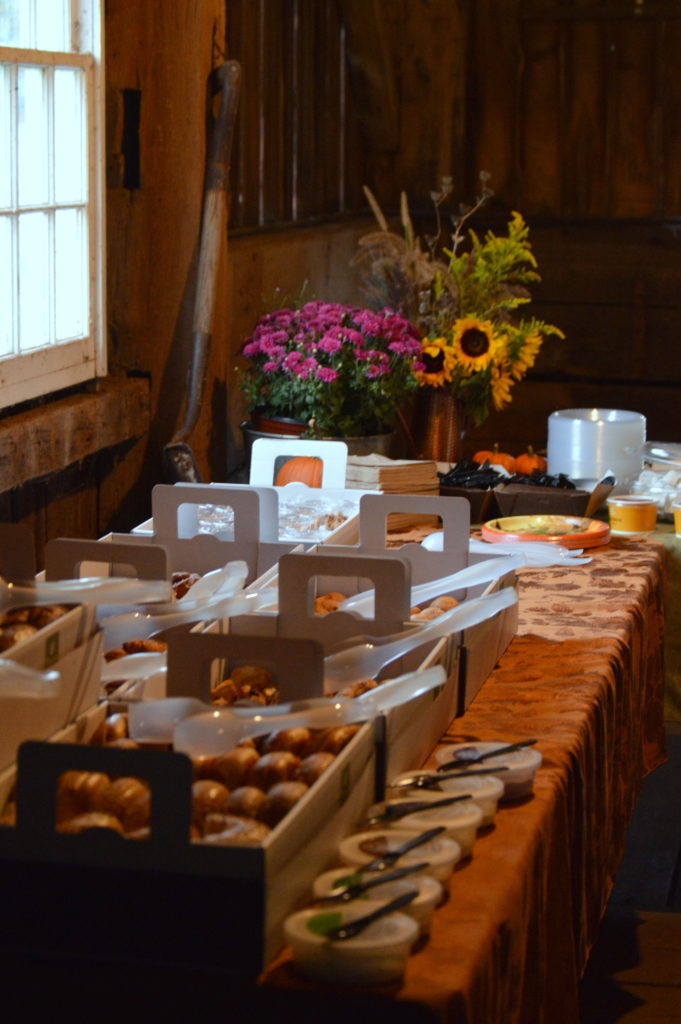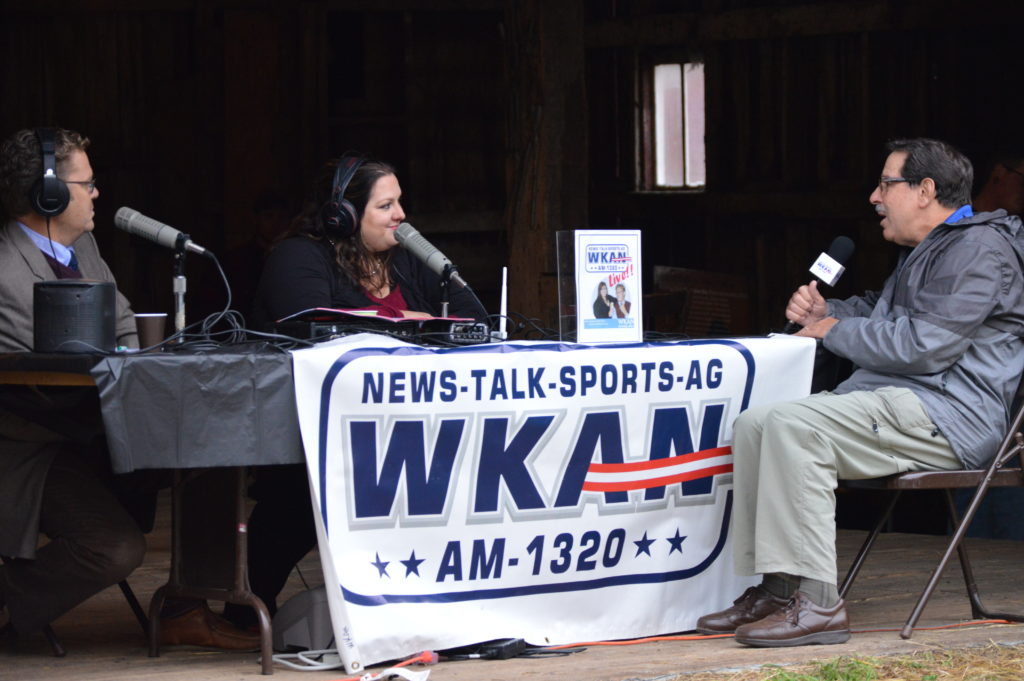 SO another 3 events – checked off!
Next up – Sleepy Hollow!!  I am responsible for marketing the entire "A Night in Sleepy Hollow" event for the park district but am responsible for the reenactment of "A Legend of Sleepy Hollow" (the retelling of Washington Irving's novel) from start to finish!  Numbers really don't adequately describe the breadth and scope of this event – but I'm gonna give it a shot!  This is our 6th year – we perform for 36 audiences – they are all sold out – so 1440+ audience members.  We have action going on at 10 different locations and we added more changes this year than ever!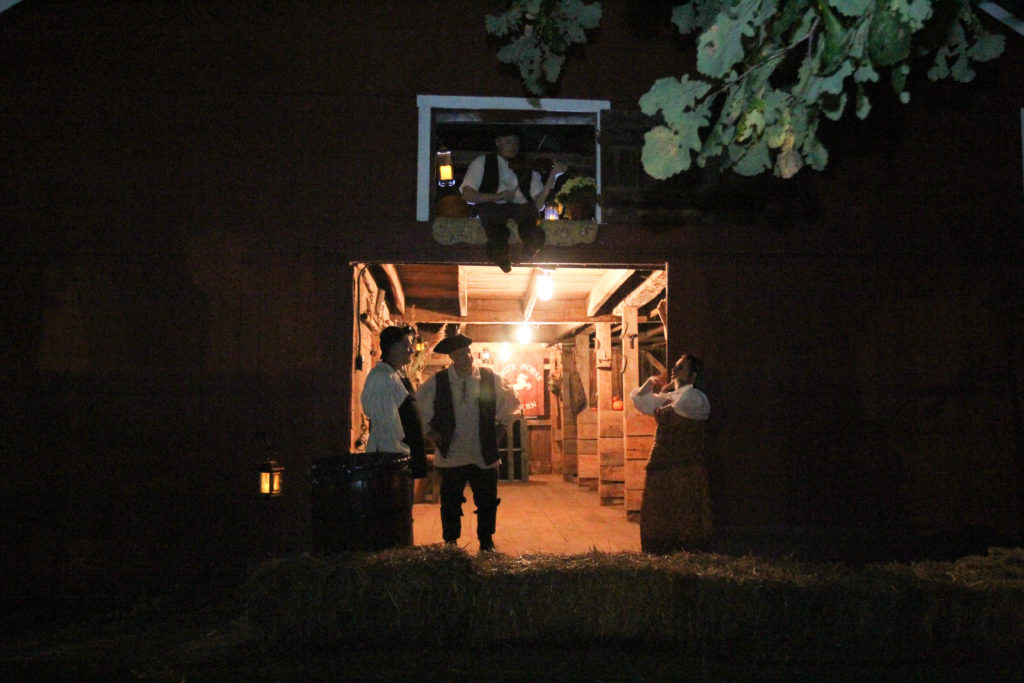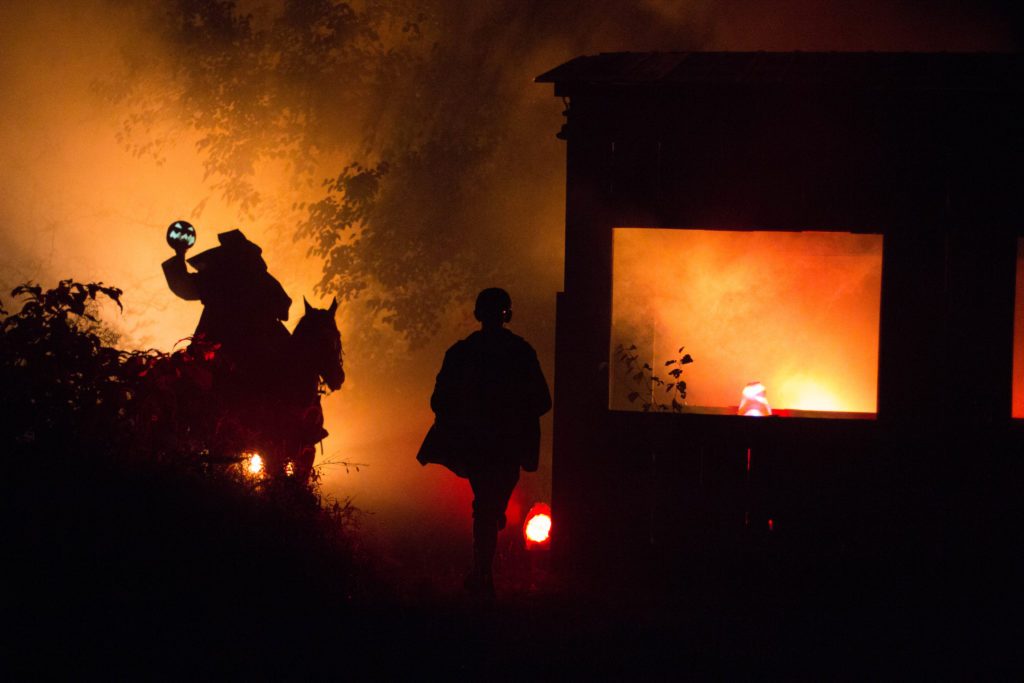 The biggest was the addition of the White Horse Tavern in the historic horse barn.  But I digress from my numbers focus!  For JUST the reenactment portion of "A Night in Sleepy Hollow" (which grows every year!) – it took 70 people to pull it off.  This event runs for 2 weekends – 5th event checked off!
During the run we also hosted Zonta's Shilly Shally stop in the Tavern with some of our storytellers giving a glimpse into the event – 6th  event – checked off!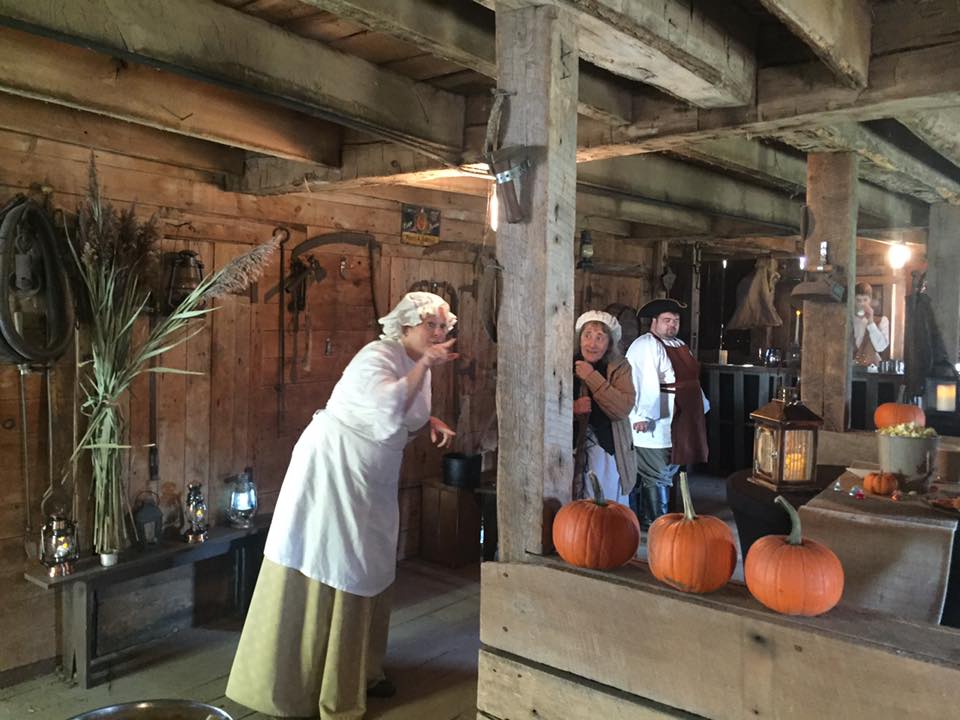 Next up – Haunting on Cobb Boulevard with our Acting Out monsters on Halloween night!  This is year 6 and we had 7 ghouls terrifying the Riverview Historic District trick or treaters – which there were 100's! 7th event – checked off.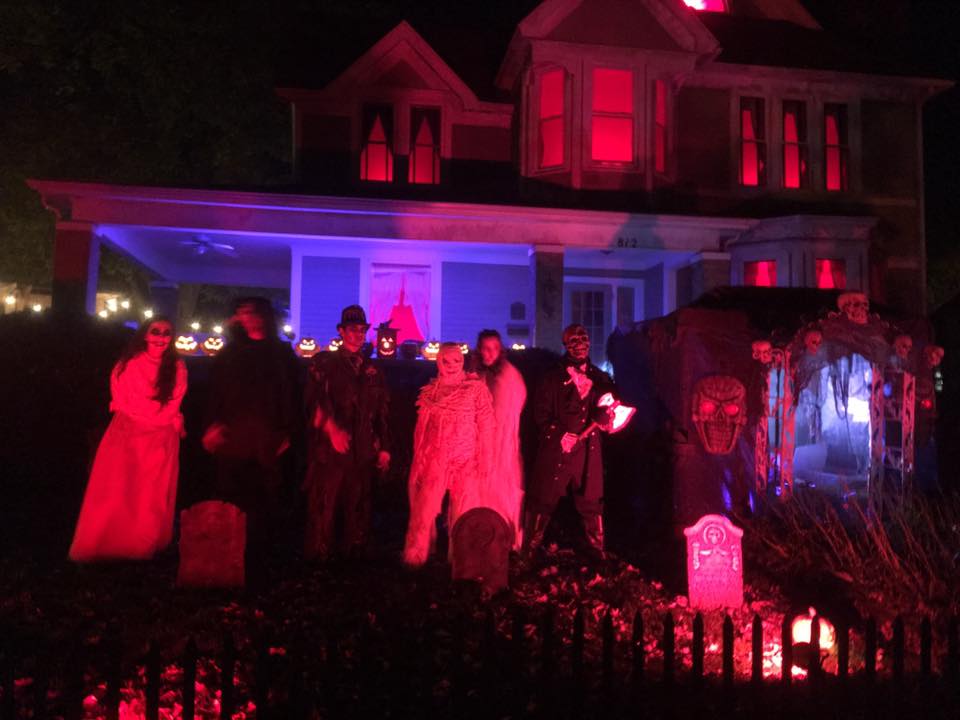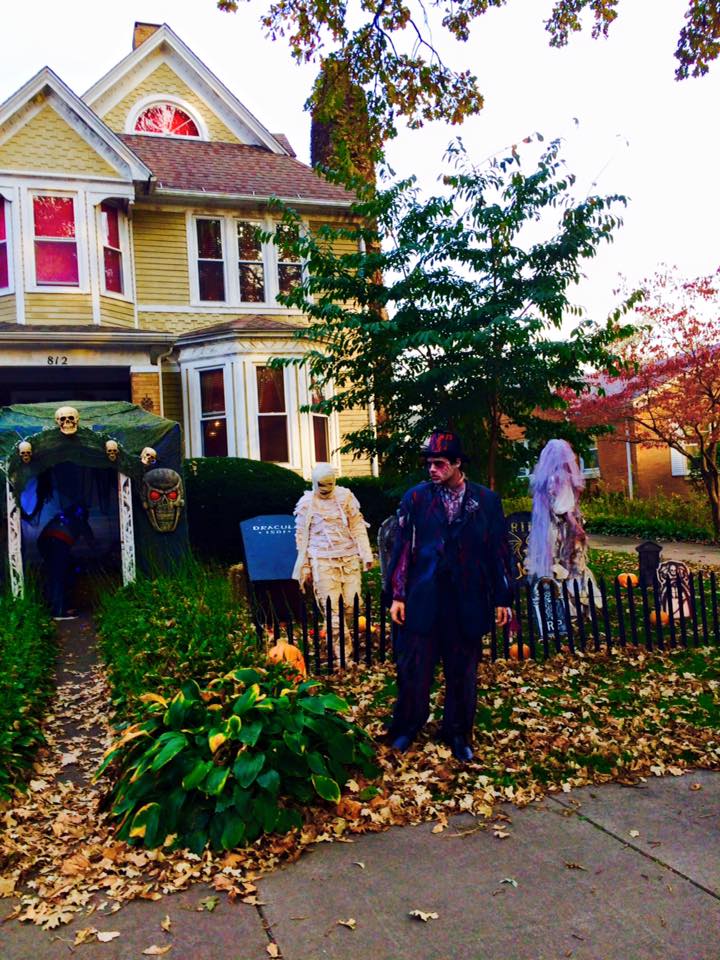 Next up – Bourbonnais Township Park District's 30th birthday party which was on November 3rd!  We have been focusing on the history of Perry Farm for the past 6 months and reflecting on the vision of Lomira Perry that left this farm as her legacy.  She gave this phenomenal property to the State of Illinois with the conditions that "Perry" always be in the name of the park and at least 40 acres stay in its natural prairie state.  The Perry Farmhouse, where I reside during "work" hours, and the horse barn and 3-Bay English barn that are parts of the reenactment, are huge pieces of Bourbonnais history.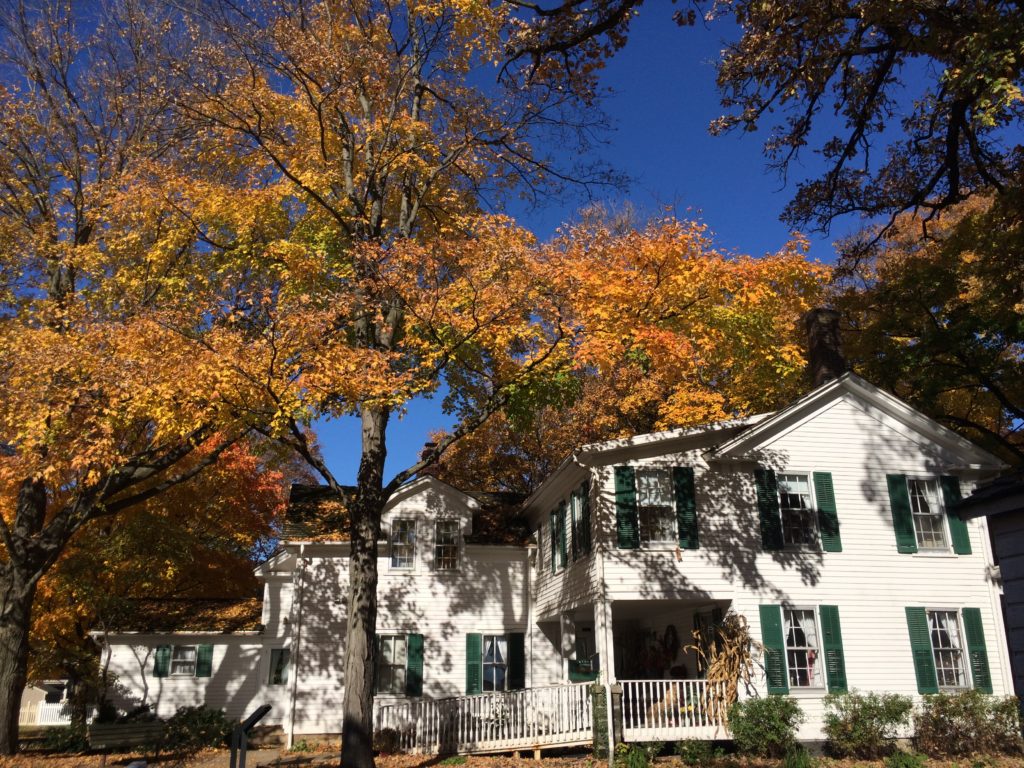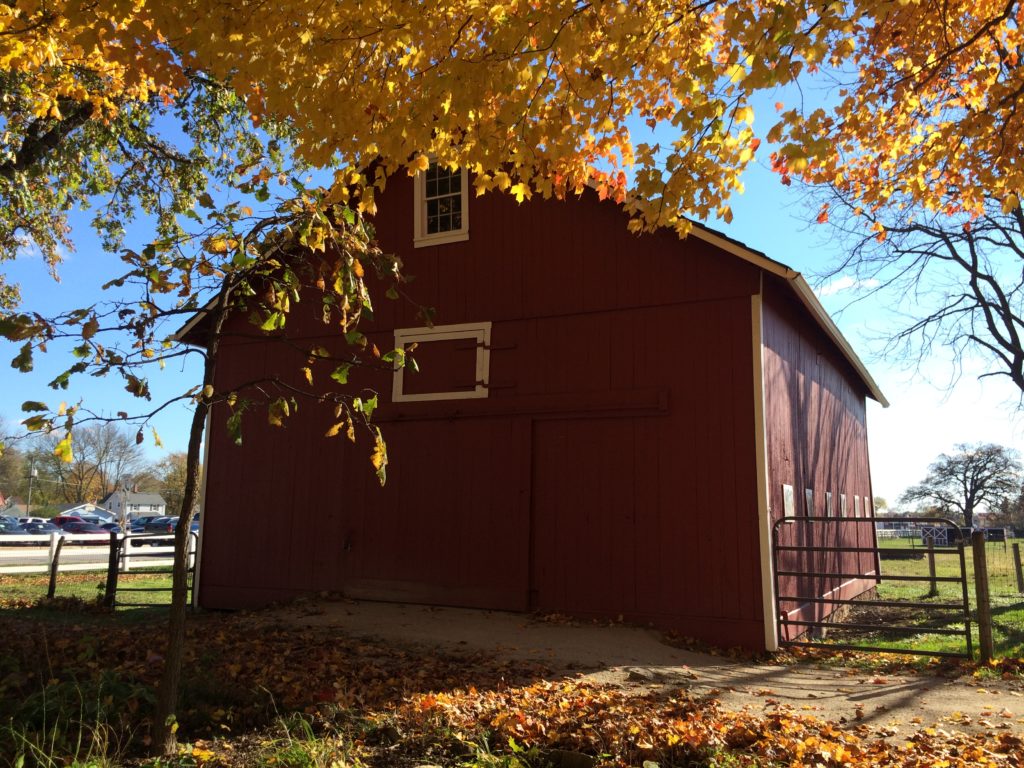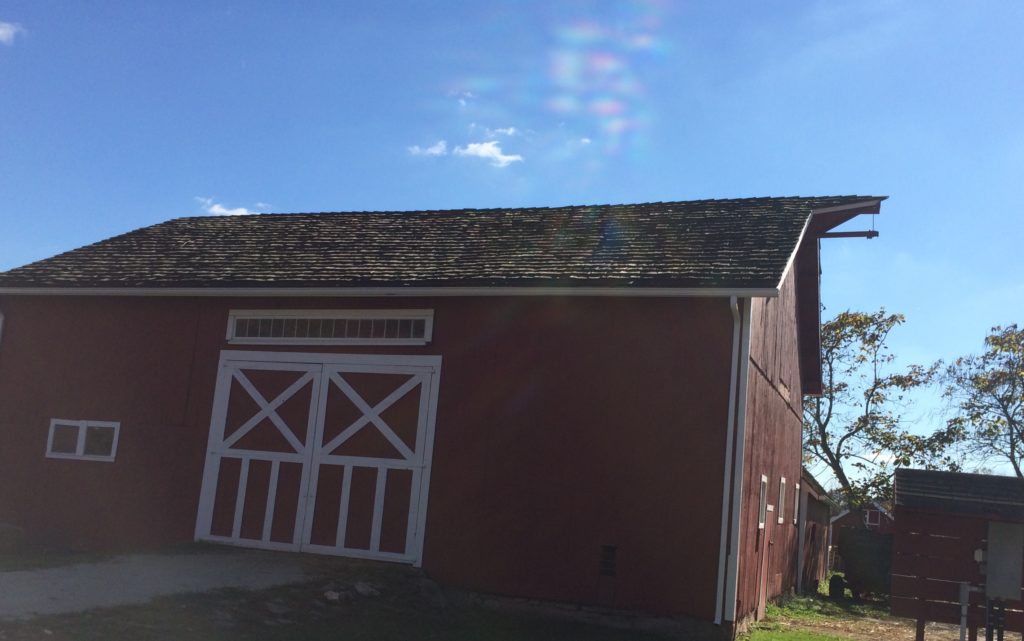 I get all "goose fleshy" when I think about how fortunate I am to be surrounded by so much local history! It is a privilege to be where our quaint village started!  Thank goodness she had such vision!  So we had cake and giveaways at 3 of our facilities to celebrate with the community.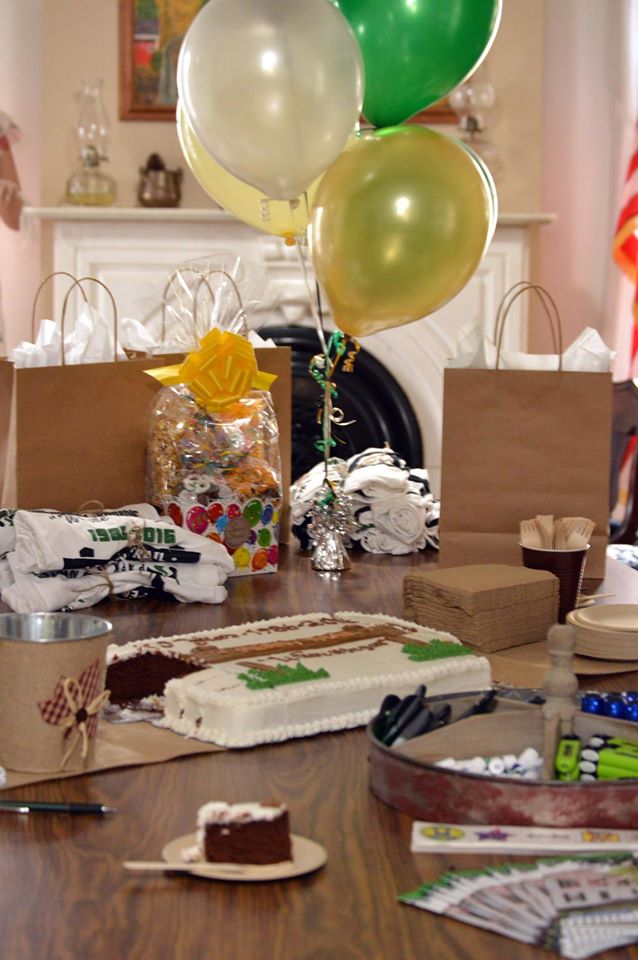 So 8th event – checked off!
Next up – they say there is no rest for the weary – so currently working on 3 events.
We began "It's a Wonderful Life Radio Show" yesterday.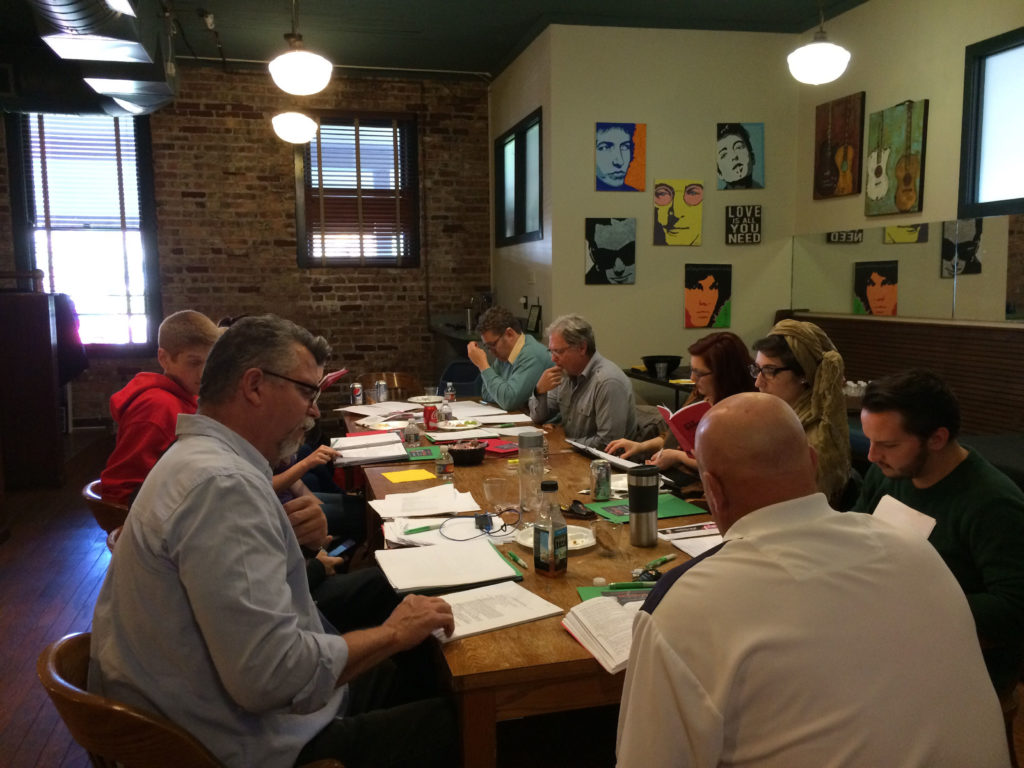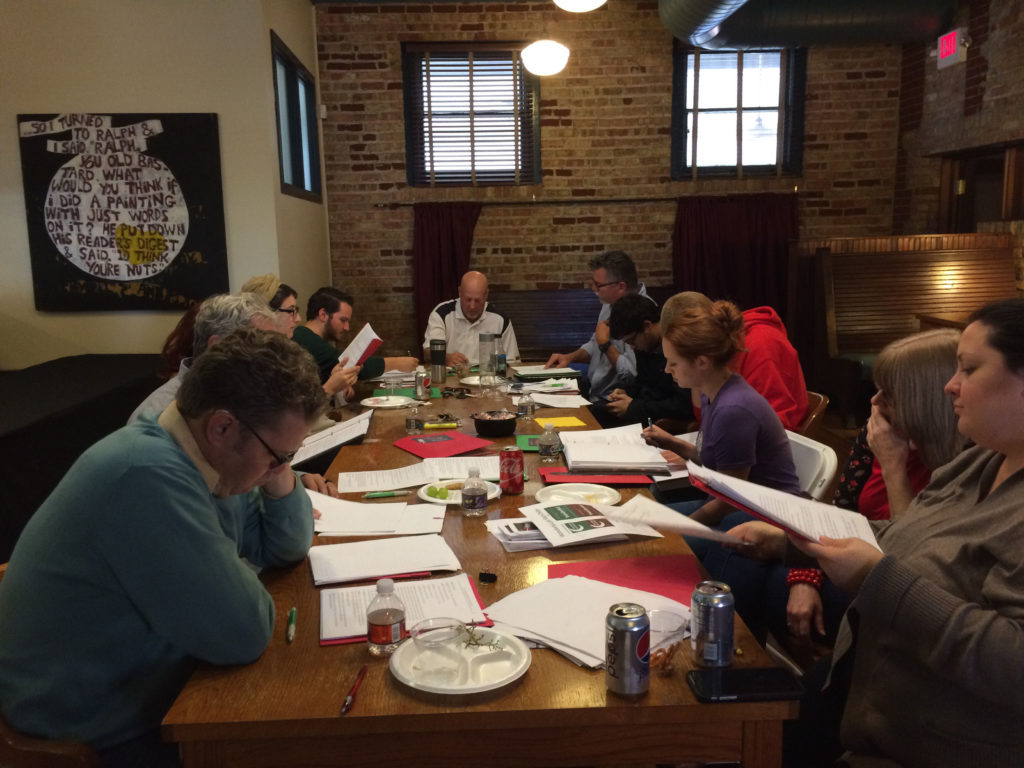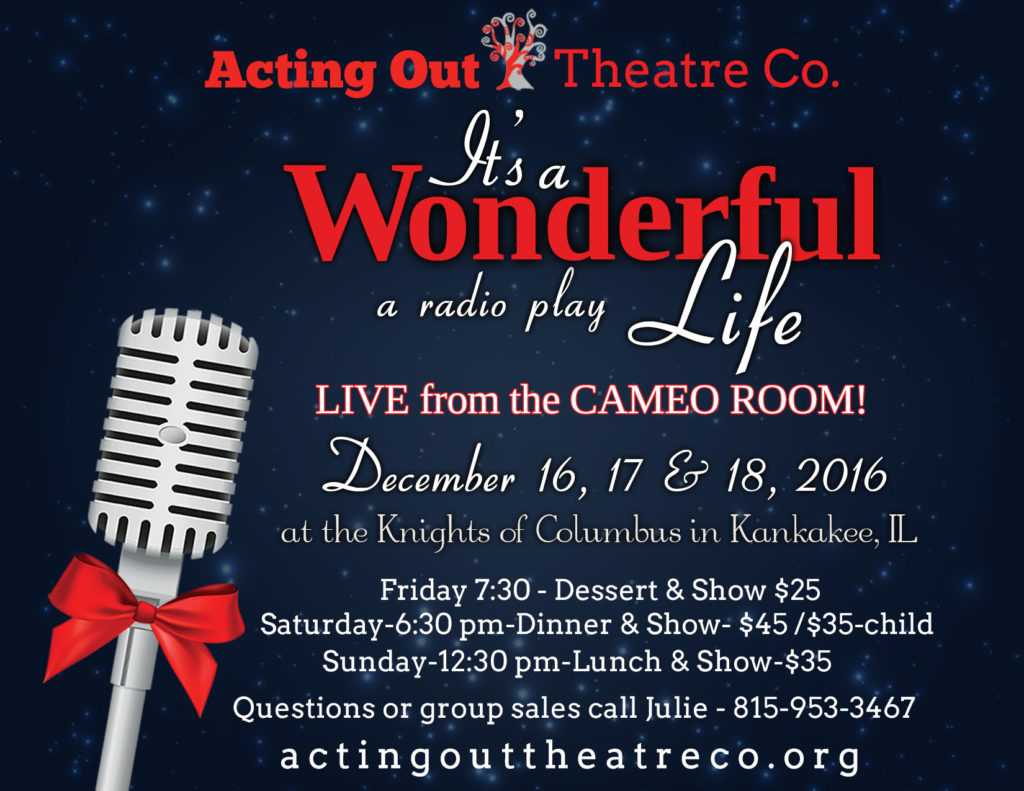 I am also currently working on an inaugural event with the BTPD and the Village of Bourbonnais – A Chocolate Tour.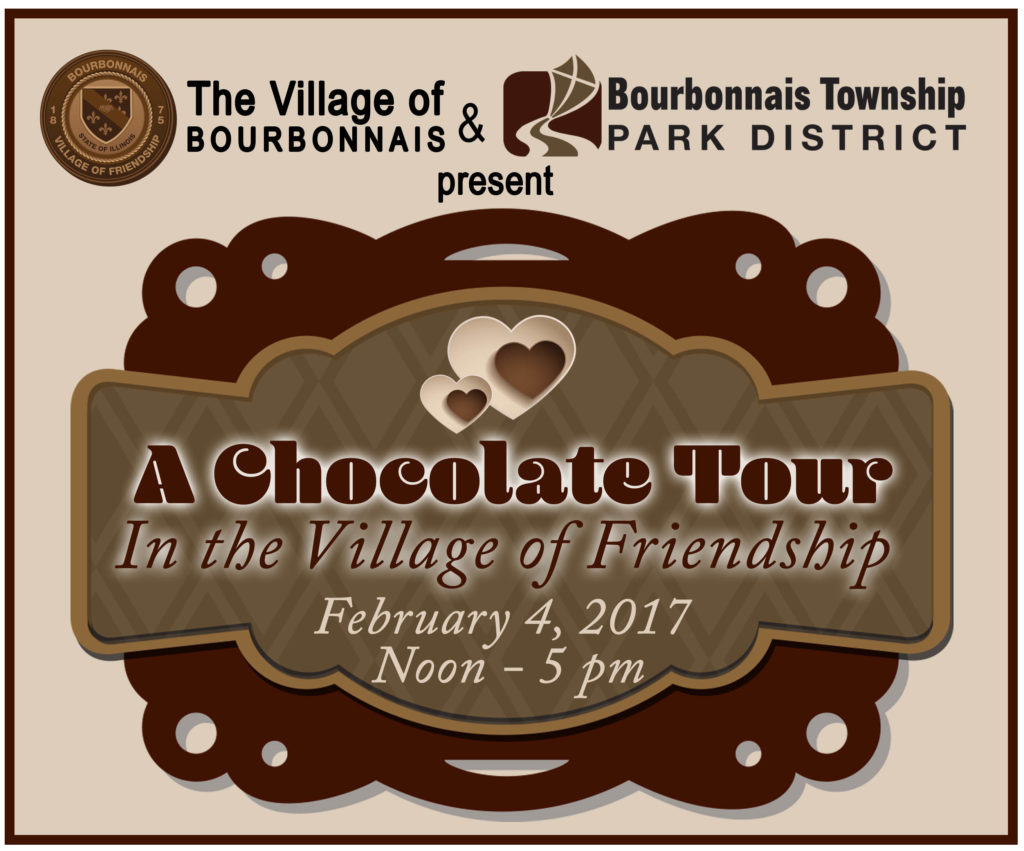 And there is a little thing called "Beauty and the Beast" that we are gearing up for!  So it will take me a while to mark the next 3 events off – but in the meantime
my brain is keeping track event by event.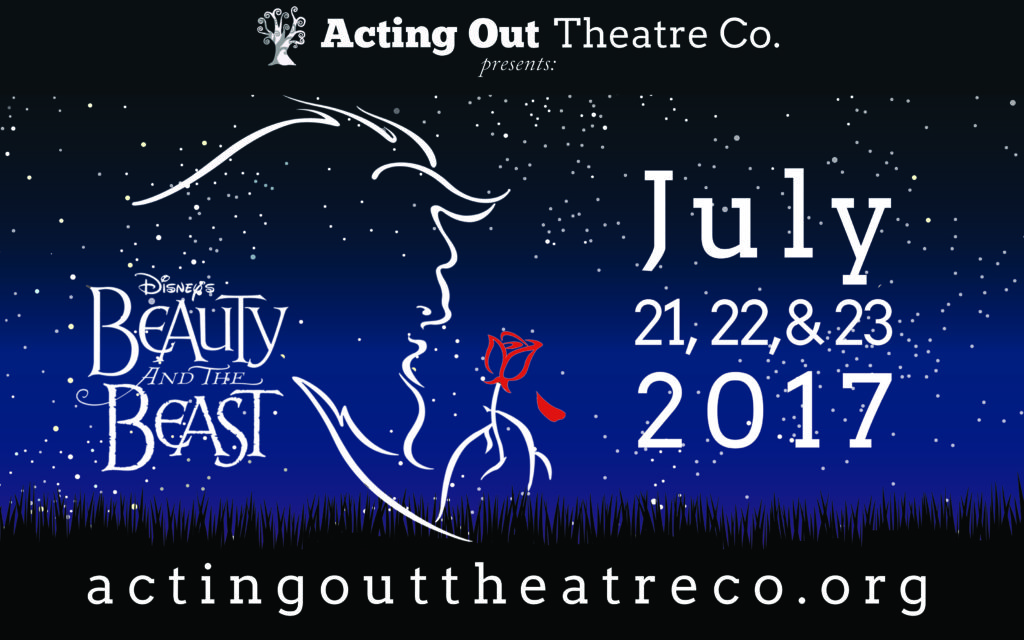 And who am I kidding – of course there will be more and more events added to the list – but all in all – that is what drives me.  I believe my function as an employee of the Bourbonnais Township Park District and my role at Acting Out Theatre Co. is to assist in enriching the quality of life in our community and showcasing the amazing amount of talent that exists in our very own River Valley.  Thanks to you – the community – for supporting all these events and helping make our community the best it can be.
I'll end with a quote from a plaque the Kankakee Development Corporation gave to Acting Out Theatre Co. a few years ago – "I like to see a man proud of the place in which he lives.  I like to see a man live so that his place will be proud of him." ~ Abraham Lincoln
That sums it up quite nicely.